New iPhone & iPad Accessories: back MobileMount project
There is a new iPhone and iPad accessory on the market, we say market but in one respect it is not. The new MobileMount is a new Kickstarter project, which needs backers. The mount is a suction cup type that promises to be the best and deliver great quality.
The kickstand mount produced by JR Sanches of J & M Company is the one behind this new project, MobileMount attaches to any mobile device such as the iPhone or iPad, and it also works on many other products with flat surfaces. Comprised of two twist-to-lock suction cups and one ball joint, and offers brilliant suction.
The Kickstand project will be funded on Tuesday Nov 29, 5:14pm EST, If you donate a one dollar you will help fund the project, if you pledge $25 or more (402 Backers so far) you will get the first edition MobileMount in Black, as well as 4 vinyl circles in either white, black, or clear, these help the product to stick to devices, if you do pledge you will be asked to pay for shipping charges, Canada is $10, International please add $15 to pledge amount.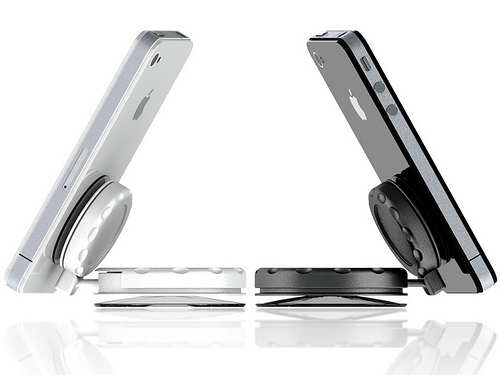 If you pledge $30 or more (66 backers) you will receive the MobileMount in Limited Edition White, and the rest is the same as above. This is a fantastic accessory that could stick to a cars front-screen; this product will definitely go to market considering the backing.
Please watch the video below and see what you think, for more information please visit Kickstarter