5 apps for the traveling man
It is probable that anybody who is stuck in an office sometimes dreams of an uninhabited island. Although everything might not be that extreme – sometimes just changing the atmosphere will work.
Whatever the case is, both of them have something in common: a tourist voucher, packed suitcases, and eyes shining. And, in order to not overshadow your trip with some everyday confusions and trivial unawareness about the local rules, we have prepared a small selection of apps that are useful for every traveler. You didn't forget your iPhone at home, right?
1. Every trip starts with a pleasant but quite hectic action – preparations. You need to manage to not forget the visa arrangements, get cash in the local currency, book the hotel, and pack a suitcase of useful (and not-so-useful) things. And to ensure that you didn't forget anything and not think about your favorite t-shirt when already on a plane, use an application that is dedicated to preparing the trip: Visual Travel Checklist.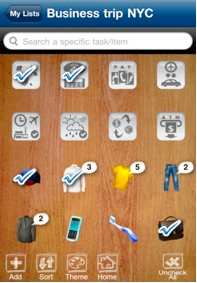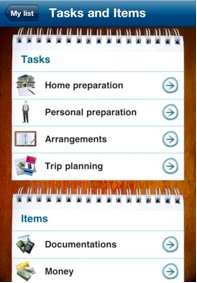 The application has a nice-looking interface visually demonstrating what needs to be prepared. A t-shirt looks like a t-shirt with a number indicated, the cash withdrawal task is represented as an ATM icon, and a passport truly looks a like a worn dark-red document. Over 250 predefined tasks and items are ready to be added to user lists and if something is missing – it is always possible to create a custom note.
2. Probably everyone is familiar with the 'what-to-do-during-a-flight problem'. These 10 hours of sitting on a plane can exhaust anyone and the movies played onboard sometimes are even more annoying than a loudly snoring neighbor. And you cannot even watch your own movie due to the limitations of iPhone's player. Fortunately, there exist some third-party players that are not overloaded with excessive requirements. For instance – GoodPlayer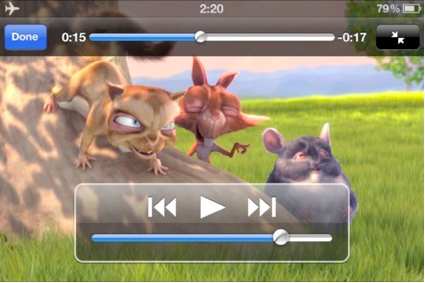 The player allows you to download almost any video files using the WiFi or iTunes "Document" function. There's no need to decode anything or to search for an appropriate format – just take your favorite film from a friend's thumb drive and upload to the iGadget through WiFi. Besides for watching video on an iPhone or iPad it is also possible to open downloaded movies on a big screen of a hotel room with no TV required.
3. When it is your first time in another city or country it usually generates a whole bunch of impressions that can turn you in circles. And in a half an hour you will find yourself in a totally unfamiliar place with no idea where to continue on to. However, there's no trouble with this since even new places will become completely familiar with the use of navigation apps like OffMaps 2.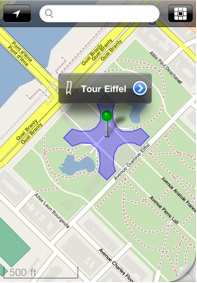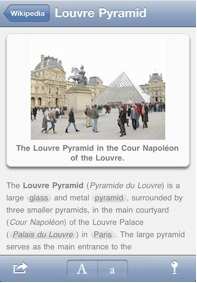 The application has pretty much the same functions as Google Maps but requires no Internet connection for that. Make sure that you have downloaded a map of the place you are about to visit and forget about data connection charges while roaming. Besides maps, OffMaps 2 also contains a guide to cities that are most popular among the tourists as well as a list of restaurants, bistros, gas stations, and shops around. Due to all that, you will not have to wander to and fro looking for a tasty dinner.
4. It is always difficult without knowledge of the local language. It is good if the country is an English-speaking country, but what about Austria or Portugal? Difficulties will crop up even with a trivial order in a restaurant let along the street signs. TextGrabber + Translator will help smooth away the language barriers.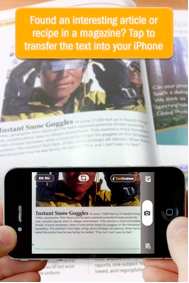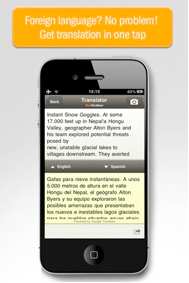 Just take a photo of the cafeteria menu part that interests you, select the area with text, and leave the analysis of all that to TextGrabber. The result of the "scanner's" work can be translated into your native language in just one push of the button and publish it on Facebook, Twitter, and Evernote. It is understandable that translation is not 100% accurate but even in the current version, the application can significantly accelerate the process of steak getting into your stomach.
5. Many countries still have their own currencies and their own measurement systems. It is possible to count Czech koruna on the fly but when it comes to yuan and pound sterling there might be difficulties. But it will get way easier if you have Converter Touch installed on your iPhone.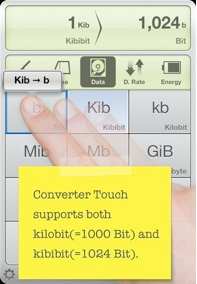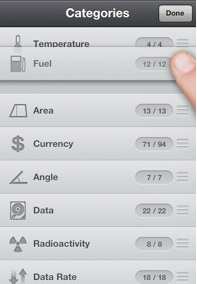 This beautiful converter probably knows all the existing measurement systems in the world, not to mention currencies. Just drag a unit that you are interested in to the left area of the calculator and the one that is familiar to – to the right area. And the result will show up in just a moment. To speed up list navigation, all the unused signs and categories can be turned off. And do not worry about exchange rates — Converter Touch updates them regularly through the Internet.
Every traveler will find hundreds of useful applications in the App Store. And we hope that our selection will allow you to get all the best without the annoying reading of catalogs and opinions.
If you have a question about Apple products such as iPhones, iPads, Apps, or anything else, please read more on: softwarewithstyle.com, this is a very interesting site that offers many answers.