Best College Grade GPA calculator apps
As well as bringing readers details of entertainment, lifestyle and gaming apps we also realize the benefit of some of the many educational apps available. Today we want to give readers details of some of the best college grade GPA calculator apps so that if you're a student you can track those all-important grades.
We have details of iOS apps as well as Android apps and if you want to find out more or download any of the following apps then simply hit the titles which link directly to either the App Store or Google Play store. First we'll start off with an iOS app called GPA Calculator Free, which is a comprehensive GPA (grade point average) calculator for those in the US, Canada, Hong Kong and Australia. It's a free app and compatible with iPhone, iPod touch and iPad running iOS 4.0 or later.
Next up is another iOS app, this time iStudiez Pro, compatible with iPhone, iPod touch and iPad running iOS 4.1 or later. This one is priced at $2.99 and was recently updated. It covers a wide scope of information useful for students such as schedule planning, tracking tasks and deadlines, planning homework and assignments and is great for students in high school, college or universities. A GPA calculator based on assignments also features for both current and past semesters and it supports most grading scales used.
Another app, this time for Android devices is the GPA & Final Exam Calculator. This is a free app for devices running Android 1.5 or later. This gives users the chance to find out what they need on final exams and calculate their GPA's as well as saving the GPA for future calculations. Users need to enter the grading scale that applies to them and there are two options for the final grade calculator. Firstly it can calculate based on section points values and secondly on section percent values.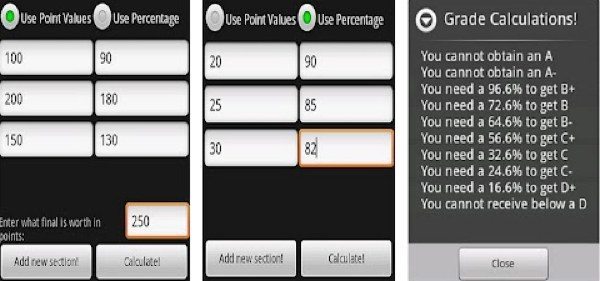 Our final suggestion is another Android app. GPA Calculator is for devices running Android 1.6 or later and priced at £0.65($0.99) and as you would expect it allows users to track school grades right through their school careers. Just some of the features include an easy to use interface, the ability to update and edit, keeping tabs for scholarship purposes and stats such as Cumulative GPA, Semester GPA, Best Semester and Worst Semester.
Hopefully among these GPA Calculator apps you will find exactly the app that suits you best. If you have any other good GPA apps to recommend then let us know by sending your comments. If you decide to try out any of the above, why not let us know what you think about them.