2012 Olympic must have Android apps in London
With the London 2012 Olympics in England coming up we thought it would be a good idea to round up some must have Android apps for the occasion and there are some great ones available. The London Olympics 2012 begins on July 27 and ends on August 12 and these apps should help you to get the most out of the Olympic experience.
It will be the third time in modern Olympic history that London has hosted the Games and as well as arenas and stadiums across London, including the Olympic Stadium holding 80,000 people, events will take place in other towns and cities across the UK. Hopefully then, this will be one of the most memorable games so far. All of the apps below are for Android devices so simply click on the title links to go straight to the Google Play download if required.
The first we have for you is the London 2012 Olympic Schedule, a free app for devices running Android 2.1 or later. As you might expect this app is simply a London Olympic event schedule and also gives details of the history of the Olympics. The schedule is displayed by event, date, location, map or all and can be shared with your friends through Facebook or Gmail.
Next up we have London Olympics 2012 with support for 8 different languages. This is another free app and is suitable for devices running Android 2.2 or later. Along with the schedule this also features the sports being played, the different countries involved, venues, updates, news and more. It also features medal tally updates, simply touch different countries to see the latest situation.
Another app is the 2012 London Olympics Planner. Again this is a free app and this one is for devices running Android 2.1 or later. This app will help you plan your experience of the Games with a swipe through day-by-day events calendar that will show your local time, to save having to calculate time differences. You can add events to your planner by clicking on the blue icon and then an alarm feature will also alert you before the event starts (up to 24 hours before) so you really shouldn't have to miss a thing. Other features are a countdown to the Opening Ceremony, descriptions of the sports and more.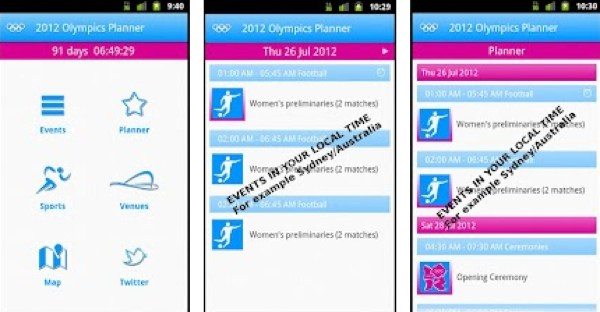 Our next app is the Olympic Translator, a free app for devices running Android 2.1 or later. This is a great app if you're fortunate enough to be in the UK for the Olympics as it can be used to translate phrases for you by Google or by native translators and covers 37 different languages. Just some of the languages supported are Arabic, Chinese (traditional and simplified), French, Greek, Hebrew, Hindi, Japanese, Korean, Russian and many more.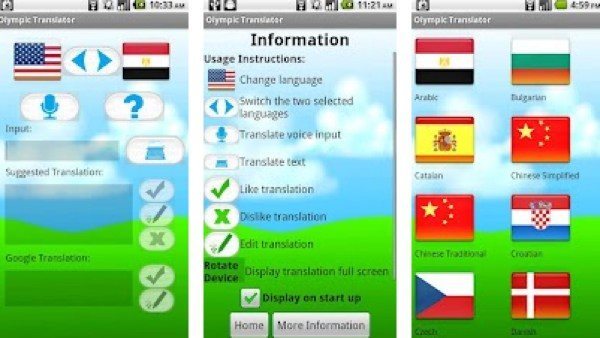 Our penultimate app suggestion is the Olympics 2012 Countdown. This is also a free app and compatible with devices running Android 2.1 or later. It requires an Internet connection to work, 2G, 3G, 4G or WiFi for example. This really provides a handy buildup to the 2012 Olympics, as it's a countdown in several different time zones.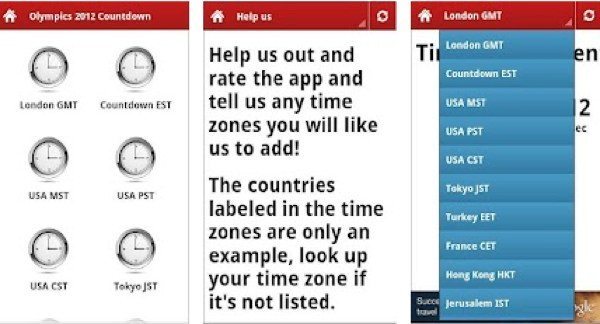 The final app we have for your delectation is London 2012 Olympics Wallpaper, another free app for devices using Android 2.1 or later. The description for this is pretty short as it simply offers 15 different London 2012 Olympic-themed Wallpapers.
Hopefully among our London 2012 Olympic Android apps roundup you'll find at least one or two that will enhance your Olympic experience and help you to get the optimum enjoyment out of this special event. If you download any of these apps maybe you could share what you think about them by sending us your comments? Maybe you have other Olympic 2012 apps that you can recommend to our readers?