Bell Canada offering sub-$50 Motorola Atrix HD LTE
If you happen to be one of the Android faithful over in the great white space of Canada, and have been contemplating picking up the Motorola Atrix HD LTE, but have held off because you thought the Android Ice Cream Sandwich smartphone was a tad on the expensive side, you just might like to know that the Motorola Atrix HD LTE can now be yours for less as long as you don't mind going with Bell Canada.
Thus if you are one of the Canadian Android faithful, you can now purchase the Motorola Atrix HD LTE from Bell Canada for under 50-bucks, as Bell is now offering the Atrix HD LTE for just $49.95, as long as you are prepared to sign your life away for a three-year term that is.
However, one should be made aware that to get the Android Ice Cream Sandwich packing Atrix HD LTE on Bell, you do require a new activation on that 3-year agreement with post-paid voice and data plan or a post-paid voice plan with a data feature with a minimum value of 50-bucks per month.
Of course if you wish to forgo that contract the Bell Motorola Atrix HD LTE will set you back a hefty $599.99, so maybe the sub-50 bucks option is a good choice for you.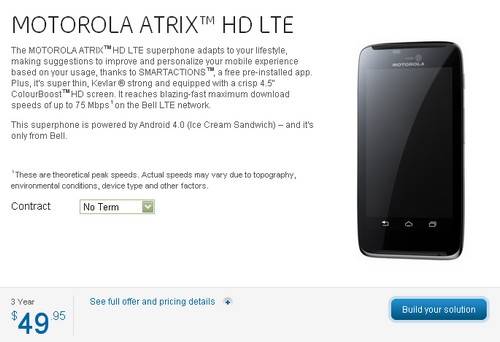 For those that might have forgotten, the Motorola Atrix HD LTE offers a 4.5-inch ColorBoost touch screen along with an 8 megapixel rear facing camera, 1080p video, a 1.3 megapixel front facing snapper, HSPA+ and LTE connectivity, WiFi, Bluetooth 4.0, GPS, DNLA, HDMI, 1GB RAM, 8GB internal memory, microSD expansion up to 32GB, runs Android 4.0, and has a 1.5GHz dual core processor.
So there you have it, are any of our Canadian readers tempted to snap up the Motorola Atrix HD LTE for under 50-bucks from Bell Canada?