Motorola Droid RAZR HD is official & incredibly solid
Today has been an eventful day and we have seen a few new smartphones announced, and now we can reveal that the Motorola Droid RAZR HD is official and incredibly solid. Is this Android handset going to blow you away though? Please read on and see what you think.
The new Motorola Droid RAZR HD has a decent sized 4.7-inch HD display and the press releases mentions that this is the most compact smartphone in its class, but what stands out the most for us is the long-lasting battery performance in high definition, apparently it will provide 6 hours of browsing the Web and 10 hours of movies and TV shows.
It will give users the same viewing pleasure you would expect from your HDTV with 85 percent greater colour saturation and 50 percent more pixels per inch, there is another cool feature that provides up to 6 hours of voice-guided turn by turn GPS navigation and all this on one full battery charge. You can get 24 hours of battery performance, which is fantastic on a single charge dependant on what you are doing.
This new handset will come in white or black, the RAZR HD will be released in Europe, Asia Pacific, North America and Latin America, In USA it will be available before the holiday with Verizon Wireless 4G LTE, we will let you know more about pricing and release dates as soon as we know about them.
The now official Motorola Droid RAZR HD comes running Android Ice Cream Sandwich 4.0.4, but will be upgradeable to Jelly Bean, other features include a 4.7-inch 720p display, 8-megapixel rear camera, 1.5GHz dual-core Snapdragon S4 processor, NFC, 2,500mAh battery, it is 131.9mm x 67.9 x 8.4mm and is Kevlar-coated. The front screen is near enough edge to edge with a slight bezel surrounding that display.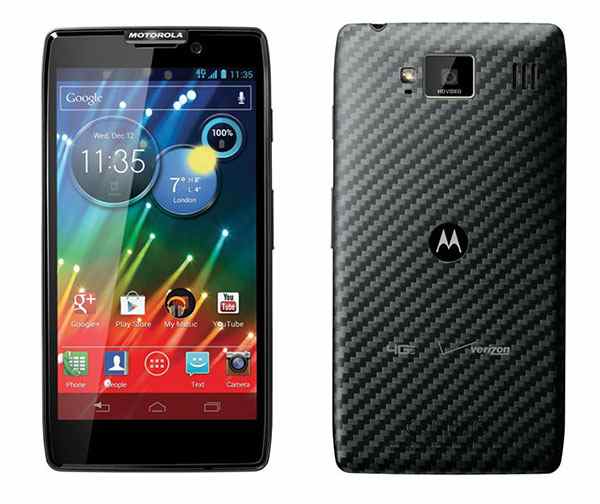 Other Features Include: Corning Gorilla Glass display, DuPont KEVLAR fiber, splash guard coating, Chrome for Android, Google Play, Google Maps, Voice Actions for Android and integrated Google+, YouTube and much more.
If you think the battery life on this phone is good wait until we let you know about the Motorola Droid RAZR MAXX HD, in the meantime please check out the hands-on loving with Engadget.