Verizon Samsung Galaxy Stellar LTE buying interest
While the various smartphone manufacturers like to try and bring out the most powerful and feature packed handsets, not everyone can afford these flagship smartphones. Luckily there are a number of companies that also have more affordable options, which can still have some nice specifications, and today we are looking at the buying interest of the Verizon Samsung Galaxy Stellar LTE.
The device may not have the power and features as the Galaxy S3, but Verizon is seemingly aiming the Galaxy Stellar at customers that may be thinking of getting their first smartphone, or one that will run on the networks 4G LTE network.
Subscribers that take up a new two year contract and after a mail-in rebate will basically get the handset for free, and for your money you get a device that features a 4-inch WVGA touchscreen display with 480 x 800 resolution. Under the hood is a dual core Snapdragon processor clocked at 1.2GHz with 1GB of RAM.
Storage wise the handset comes with 4GB of on board storage that can be boosted by up to 32GB via a microSD card. Camera wise you will find a 3.2 megapixel unit on the back while around the front is a 1.3 megapixel shooter. The Galaxy Stellar comes running the Android Ice Cream Sandwich operating system, and powering the device is a 2,100 mAh Lithium Ion battery.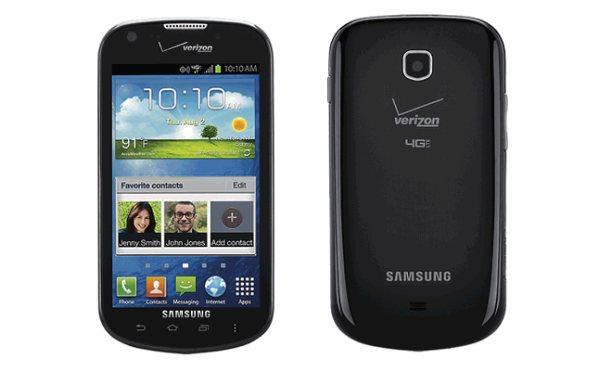 Other features include Wi-Fi, Bluetooth 4.0, GPS, and a number of pre-installed Amazon and Google applications. Considering this is supposed to be an entry level device user's get a lot especially as it is free. What we are wondering is whether there is enough packed into the Galaxy Stellar to tempt enough consumers to purchase the handset.
There are a vast range of handsets that may not be quite as cheap as the Stellar, but offer a lot more, and for many it will not just come down to any upfront cost for the device, but how much it will cost each month to use it. The more expensive smartphones that are available are often on the more expensive monthly plans. For more information on the handset hit the official Verizon website here.
Are you considering the Samsung Galaxy Stellar?