BlackBerry PlayBook update to OS 2.1 and what it brings
We always try to keep readers informed about updates for their devices and today it's the turn of owners of the BlackBerry PlayBook tablet. The OS 2.1 upgrade from RIM brings some bug fixes, improvements and new features and we'll bring you some details of the over-the-air update now.
If you have a BlackBerry PlayBook you should receive a notification on it about the OS update. Alternatively you can manually check for it in the top corner where you'll need to tap the gear icon and see if the new version is under Software Updates. One of the additions that users may notice from the upgrade includes being able to secure extra data as the enterprise grade encryption can now also cover personal data. Plus a new BlackBerry Bridge 2.1, available from the BlackBerry App World, means that users can send a text from their PlayBook via their BlackBerry phone.
Another improvement enables the use of Portrait Mode for Messages, Contacts and Calendar apps while the Print to Go app now means that documents can be printed from a PC to the PlayBook, even if they are on different networks.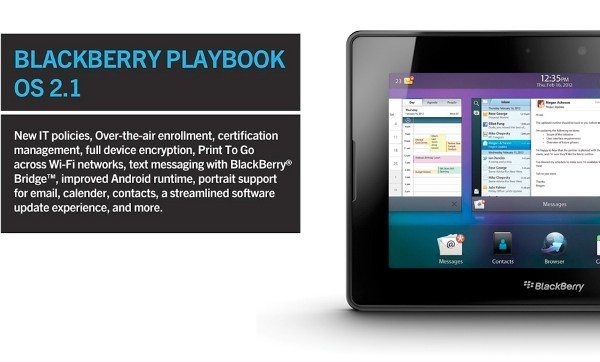 As well as these changes the new 2.1 operating system features over-the-world enrollment to BlackBerry World Fusion that simplifies the use of PlayBooks in the enterprise. New features here include more IT Policy controls and certificate-based authentication ActiveSync support.
Do you use a BlackBerry PlayBook? If so let us know if your update goes smoothly and what you think of the changes that OS 2.1 brings by letting us have your comments.
Source: Pocket-Lint