Galaxy Note 2 takes on Galaxy S3 in video confrontation
When it comes to Samsung devices, the very popular Galaxy S3 is the jewel in Sammy crown, but there is also the new Samsung Galaxy Note 2, which is also gaining in popularity, but which of these two Samsung devices can come out on top when put face to face in a video confrontation? Well you are about to find out.
What we have for our readers viewing consideration below is a Samsung Galaxy Note 2 versus the Samsung Galaxy S3 video that puts the Android device in a head to head confrontation to try to discover which is the better of the two devices, courtesy of Pocket Now.
Should you stick with Sammy's flagship smartphone, or should you opt for the Galaxy Note 2? Well in the footage the two devices are put through some benchmark tests, deliver a tour of each device and see how they stack up against each other.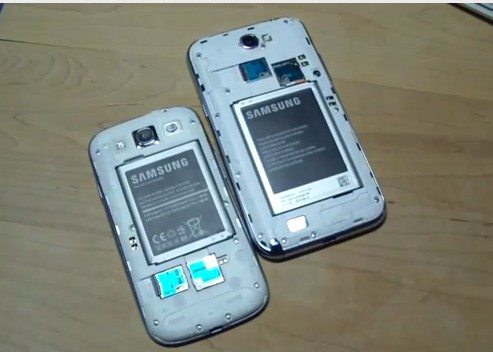 It's obviously clear that side by side the Galaxy Note 2 offers the larger display and size but it is also very clear they are both Samsung devices, and although the Galaxy S3 with its 4.8-inch display is close to tablet territory, it doesn't come anywhere near the 5.5-inch display of the Samsung Galaxy Note 2, but when it comes down to the screens they are quite similar.
Obviously the Note 2 being the bigger device weighs more at 183 grams whilst the Galaxy S3 weighs in at 133 grams, and the Note 2 is somewhat thicker at 9.4mm than the Android smartphone at 8.6mm, but the extra weight of the Note 2 can help the device to feel a bit more premium.
Anyway as I have no wish to spoil your viewing pleasure, I'll leave it right there and let to head on down to mash that play button to check out the battle between these to top notch Samsung devices, and find out if one can come out tops…enjoy.