iPad mini Wi-Fi 64GB same price at Walmart
Apple has now entered the the smaller tablet space with the iPad mini of course, and if you haven't yet picked up the 64GB WiFi version of the iOS slate, you don't have to purchase the device direct from the Apple Store, and there are other places available, and this includes Walmart.
The iPad mini is available to purchase in both black and white 64GB WiFi version from Walmart; however they do command the same price as purchasing the device from the Apple Store, which is of course $529.00, although currently the white model is out of stock at Walmart.
Although Walmart is offering the smaller iOS slate in both colours for the same price as Apple we just thought we would give you another place to shop for the device, as Walmart has listed this as new, and in case Walmart shoppers were not aware the retailer offered the device.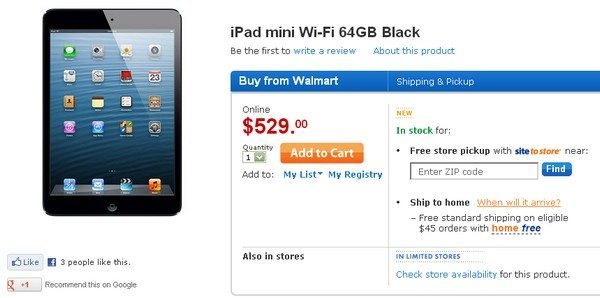 Of course I am sure if you are contemplating picking up Apple's new mini tablet, you will probably know what the device offers, but here's a quick reminder. The iPad mini sports a 7.9-inch LED backlit touch screen along with a 5 megapixel iSight auto-focus camera,1080p video, FaceTime camera, 512MB RAM, no microSD slot, 802.11a/b/g/n WiFi, runs iOS 6, and has a A5 chip.
In case you are also unaware, the iPad mini measures 200 x 134 x 7.2mm with a weight of 312 grams, and comes with a battery that is said to deliver up to 10-hours of life.
And that is your lot, but at least now you know that you can purchase the 64GB iPad mini WiFi version from Walmart if you feel inclined to do so.