iPhone 5 Nightlife case for the fashion minded
With modern smartphones now becoming more light weight and slimmer many owners decide to purchase a case to protect their treasured device. They may also want a case to make the handset more unique to what other owners of the device may have and to make it standout from the crowd. There's now a new range of iPhone 5 cases for you in the form of the Nightlife case for the fashion minded smartphone owners out there.
These new cases from QDOS come from a company that is responsible for a range of innovative accessories for Apple's range of iOS devices. There are three new Nightlife cases that have been added to the popular Smoothies collection for the handset, which are embedded with stunning looking rhinestones that add some shine and sparkle to your iPhone 5.
With the busy Christmas shopping and party season already upon us the cases will make the rear of the handset resemble the sparkling sky at night. Fashion conscious party goers will find the new range ideal for accessorising their party outfit.
It's not all about style though as these lightweight but scratchproof polycarbonate cases offer maximum protection to the iPhone 5, and are available in either Black, Midnight Blue and White colour options for only £24.99 with free shipping within the UK.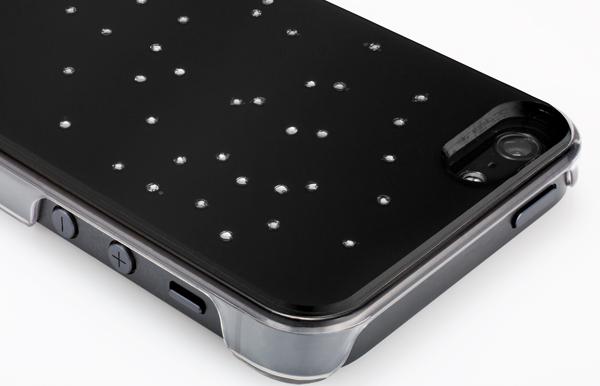 Manufactured from tough and hardwearing polycarbonate material that has also been layered to replicate the glass finish of the iPhone, and the crystals are deeply embedded within the case so they themselves are also protected.
A special coating ensures the design won't fade or chip over time, and a smooth finish means the handset will glide easily in and out of pockets. There is also a special bevelled edge that will help protect the display of the smartphone when placed onto a flat surface.
Despite all these features the case will fit the iPhone 5 snugly while allowing easy access to all the handsets ports and controls, and the cut out surrounding the camera features a non-reflective coating to reduce glare from the flash. Use the links above to see each of the three designs for the case.