iPhone 5 photography with Olloclip fisheye, wide-angle and macro
There are many iPhone users out there that are deep into photography, and use various add on lens for the iOS smartphone to capture more professional looking pictures. There are of course many available to the iPhone photographer, but today we thought we'd bring you news of a three-in-one lens that is now compatible with the iPhone 5.
The thee-in-one lens is called the Olloclip iPhone 5 3-in-ONE lens system, which features a fisheye, a wide-angle, and a macro, whilst being a quick connection solution that fits onto your iOS smartphone in seconds.
The macro lens on the Olloclip applies close to a 10x multiplier, along will allowing you to focus your iPhone 5 within 12 to 15mm of the subject, and the macro lens can be accessed by unscrewing the attached wide-angle lens. As for that wide-angle lens, it is ideal for those times when you require an extra field of view, and almost doubles that of the normal iPhone.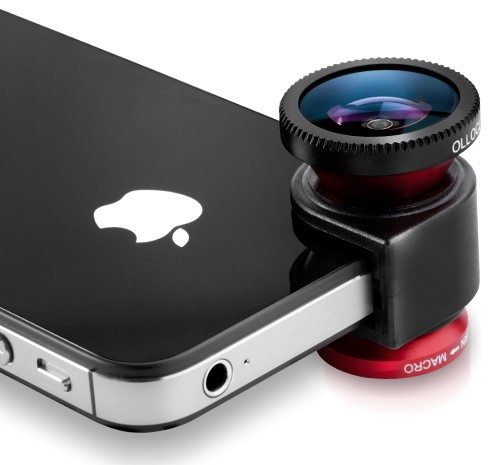 As for the fisheye, the lens captures roughly a 180 degree field of view whilst delivering some stunning images, but then if you are an ardent photographer no doubt you know all about these lenses.
The Olloclip iPhone 5 3-in-ONE lens system uses precision ground glass multi-element optics for the lenses, whilst the barrel has been crafted from aircraft grade aluminum and then anodised. The attachment clip for the iPhone is constructed from a soft plastic to ensure a tight and secure fit.
Furthermore the Olloclip iPhone 5 3-in-ONE lens system works with any iOS app that uses the iPhone rear facing camera, and comes supplied with caps and a microfibre carry case that doubles as a lens cleaner.
The Olloclip iPhone 5 3-in-ONE lens system is available in red, black, or white clip with black lenses, commands a price tag of $69.99, and can be purchase from the Olloclip website with a shipping date at the end of November. And just so you are aware, the Olloclip 3-in-ONE lens system also works with the iPhone4 and iPhone 4S.