New Samsung 64GB eMMC Pro Class 2000 for mobile devices
Long before Samsung became a major force to be reckoned with in the smartphone market the company was renowned for its chips, and have long supplied the likes of Apple with components for devices such as the iPhone and iPad. Now Samsung has announced the new 64GB eMMC Pro Class 2000 memory chips for mobile devices.
Mobile devices have got a lot lighter and thinner in recent times that means the available space for internal components especially the battery has got less. Now the Galaxy S3 maker has revealed a new 10nm class manufacturing process for 64GB flash storage chips, which means the end result is a chip that is twenty percent smaller physically.
It also has almost double the performance in terms of input/output per second at 2000 write and 5000 read. The new components will have sequential read and write speeds of 260MB/s and 50MB/s respectively, which in turn is ten times faster than an external Class 10 SD card.
This will mean that these internal chips will have much better performance than what is available externally, and as we are seeing less and less new smartphones or tablets having the option of an external microSD card now, making it easier to have larger internal storage will be a welcome move.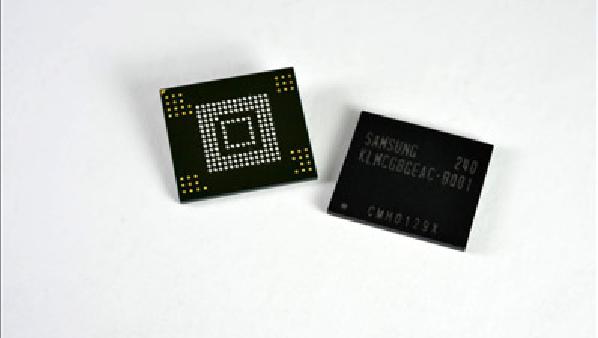 The new memory chip measures 11.5mm by 13mm, compared to 12mm by 16mm for previous versions, and this smaller size will free up space for handset manufacturers to squeeze in larger capacity batteries for longer battery life on our mobile devices.
This increase recently in screen size with the addition of more powerful processors has meant the battery life suffering on some handsets, although the likes of the Samsung Galaxy Note 2 has pleased many owners that already have the handset with its battery life.