Verizon Motorola Droid Razr 4G revisited
We have all been going mad for the HTC Droid DNA and yes it is a very good smartphone, but we thought we would step back in time a little so we do not forget the Verizon Motorola Droid Razr 4G LTE, this is where it get's revisited just in case you forgot about this smartphone.
There are so many smartphones now being sold over on Verizon and one that is getting all the attention is the Droid DNA by HTC and yes it does come with succulent features such as Beats Audio and a stunning 5-inch 1080p HD display and not forgetting a Quad-core processor. The specifications on the Droid DNA beats the Droid Razr hands-down but the Razr 4G LTE in Cranberry is still an awesome phone to own, and of course it depends how much you are willing to spend for the phone, which will determine the one you choose.
Do you prefer Ice Cream Sandwich or Jelly Bean? Do you prefer paying on a 2 year contract agreement $199.99 or nothing to pay at all? If you choose to buy the phone outright then the price for the DNA is $599.99 compared to $549.99 for the Droid Razr 4G LTE and then it depends on if you like HTC or Motorola. The DNA wins by far on specs, but there are plenty of customers that prefer a phone that does everything they want and not a phone that has everything they do not want.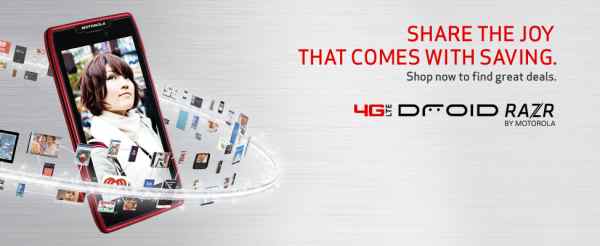 If you head on over to Verizon you can still get your hands on the sexy 4G LTE DROID RAZR by Motorola in Cranberry 16GB free right now, and this is global ready as well. We are always going on about the new smartphones just released or coming soon so it was time we revisited this one and why not.
If you are thinking about a 2-year agreement plan with Verizon and you do not have that much money to spend then we would most definitely choose the Droid RAZR by Motorola, if you was going to purchase a handset outright then the HTC Droid DNA gets our vote seeing as its only $50 difference. This is not a comparison and we are not pitting the two together as that would be pointless, we all know the DNA is the one to own, but come on lets not forget the DROID RAZR 4G by Motorola because it still has style, Kevlar body, stunning build and so much more.
Would you buy the 4G LTE DROID RAZR by Motorola in Cranberry 16GB?