Nexus 4 further shipping delays but Google set to improve
Since the release of the much-awaited Google Nexus 4 made by LG, the saga of supplies not meeting demand has escalated almost daily. Although it has been a smash-hit there have been rumblings of discontent over the way Google has handled online sales after it sold out almost instantly. Today we hear that Nexus 4 shipping dates have been further delayed but there's also news that Google is set to improve its online shopping experience by acquiring a delivery startup.
This pure vanilla Android smartphone running the latest Android 4.2 Jelly Bean operating system (now upgradable to 4.2.1) was always going to be popular and we have posted several times now about the difficulties in ordering and delayed shipping as demand continues to outstrip supply. Stock of the Nexus 4 on the first day of online sales with Google Play sold remarkably quickly without even leaving customers an option to order one for delivery at a later date. A few days ago new stock went on sale through Google Play but the system was at first overwhelmed and very quickly dates for shipping were pushed back several weeks.
You could say that those in the US were fortunate though, as at least they are still able to order the 8GB or 16GB versions through Google Play for later delivery, even if that's some weeks away. However those trying to order in the UK are still met with a message saying 'sold out' and to check back soon with no order option available at all. The day after sales resumed in the US the shipping time for the 8GB Nexus 4 was already 8 to 9 weeks, while the 16GB Nexus 4 had a shipping time of between 4 and 5 weeks, thus putting Christmas availability out of the frame.
Looking at the status of the Nexus 4 in the US Google Play Store today reveals that the shipping time of the 16GB Nexus 4 has now been pushed back further to between 6 and 7 weeks, according to Droid-Life. This is only 3 days since it was showing at 4 to 5 weeks, so more doom and gloom for potential customers. Both the 8GB or 16GB versions of the Nexus 4 look now to be out of reach until 2013 and if you order over the next days or weeks that time is likely to be pushed back even further, going by current ordering experience.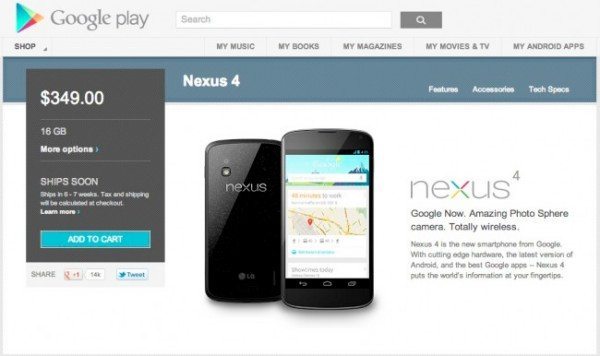 Maybe these supply woes have inspired Google to begin beefing up its online order and delivery system though as we also hear that Google has just acquired a startup company. Canada-based BufferBox is a locker and storage company that allows customers to pick up parcels at a time and place that suits them. BufferBox can supply Amazon customers, with a Bufferbox address instead of a home or work address for delivery and then will email the customer to tell them when the shipment can be collected. The customer then simply uses a dedicated PIN to go to the locker and pick up the item. Presumably if Google has purchased BufferBox then the locker company will soon be providing this service to Google Play Store customers too.
An article on Pop Herald points out that currently Google is selling the Nexus 4 phone as well as the Nexus 7 and Nexus 10 tablets online and that its online service could be made more flexible and speedy by using BufferBox. In the case of the Nexus 4 though we'd say that the sheer shortage of stock is what has caused the problem rather than the order and delivery system though the acquisition of BufferBox could enhance future product launches. However Pop Herald does make a good point when it says that Google could be about to expand its online ordering goods.
We're always interested to hear what our readers think so let us know what you think about the Nexus 4 supply situation. Do you think Google acquiring BufferBox is a step in the right direction for future launches? Are you one of the customers who've been fortunate enough to order but have a long time to wait? Maybe you're frustrated that you haven't even got the option to order yet? Let us know with your comments.