Asus Padfone 2 JB 4.1.1 OTA update for Taiwan
If you happen to be the proud owner of an Asus Padfone 2, you'll have obviously been playing along with Android Ice Cream Sandwich since you purchased the device, and no doubt hoping that Asus will update your handset to Jelly Bean at some point. Well it appears that the Asus Padfone 2 has started receiving that Jelly Bean update, although only in one region at the moment.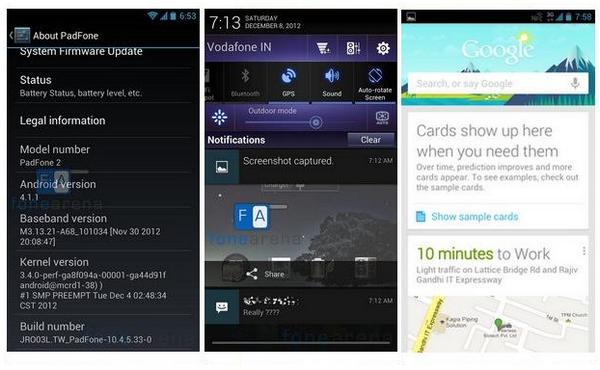 According to a report over on Fonearena, the Android 4.1.1 Jelly Bean update has started rolling out to the Asus Padfone 2, albeit only in Taiwan, and apparently there's no word on just when the Android Jelly Bean update will be rolled out to the Padfone 2 in other regions.
The build number JRO03L 10.4.5.33-0 over the air update for the Taiwanese Asus Padfone 2 takes roughly between fifteen and thirty minutes to complete, so you will need to ensure your Padfone 2 has a fair amount of charge before grabbing the update.
However, apparently once you have updated your device to Android Jelly Bean it isn't all that evident that you are running Android 4.1.1, this is because for some reason Asus has preserved the Android Ice Cream Sandwich skin. However, the Jelly Bean features such as Google Now and the new notifications are there.
To confirm that the device is running Android 4.1.1 you can hit the Menu button, then Settings, followed by About Phone and make sure the device shows JRO03L 10.4.5.33-0. If your handset happens to stick on the boot screen for too long when updating, it is suggested that you power off the handset and then switch it back on after a few seconds.
Once Jelly Bean is running on your Padfone 2, you can expect such things as voice search, offline voice typing, the ability to use the volume key as a camera key, and an improved face unlock. Whilst probably the the most notable addition will be Google Now, which of course is similar to Siri on iOS devices.
Although there is no official word on just when other regions of the globe will see the Android Jelly Bean update hit the Asus Padfone 2, the over the air update is coming directly from Asus, so you might like to check now and again as it is expected the global roll out will be completed before the year is out.