Boogie Board Sync 9.7 & Jot 4.5 LCD eWriters
The mobile space isn't just about the latest tablets or smartphones as there are other tech devices coming out, and a couple of these tech devices are being shown off at CES 2013. The devices I am talking about are eWriters, devices that let you become more eco-friendly by doing away with memo pads and scratch pads by replacing paper with electronic paper.
The two eWriters in question are the Boogie Board Sync 9.7 and the Boogie Board Jot 4.5 LCD, which Ubergizmo reports relies on Reflex LCD tech for its writing surface and is manufactured in shatter-proof plastic. Basically the Boogie Board Sync 9.7 eWriter enables the user to save hundreds of pages to a single SD card and then transfer all that info over to your computer, smartphone or tablet via Bluetooth connectivity.
The Boogie Board Sync 9.7 claims to take note taking to another level and packs a 9.7-inch pressure sensitive surface that is said to bring the control and precision of a fine tipped pen, and the device is compatible with Mac OS and Windows along with other tech/apps such as Adobe Photoshop, Adobe Illustrator, OCR and Evernote.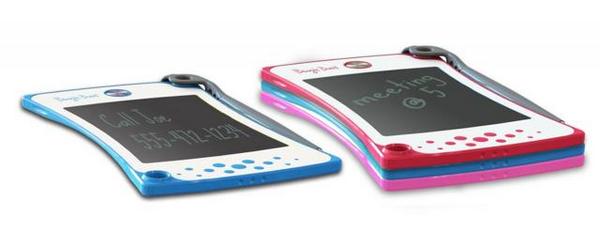 Moving on to the Boogie Board Jot 4.5 LCD eWriter, the device is lightweight and small with a durable and compact design that is great for quick reminders and memos when on the go, and is supplied with a tapered stylus and stackable design.
The Boogie Board Jot 4.5 LCD eWriter also features a removable plastic cover that protects the writing surface from being marked.
And that is about all that is known about both of these eWriters at the moment, obviously no word on what price tag either will command when they finally arrive in the mobile space, which apparently will not be for some time yet, as the word is they are not due to arrive before the holiday season 2013.
However if you are interested in an eWriter, we have embedded a couple of videos that shows the Boogie Board Sync 9.7 and Boogie Board Jot 4.5 LCD eWriters in action at CES 2013 for your viewing consideration below.