iPhone 5 Moshi Overture wallet case avoids carrying both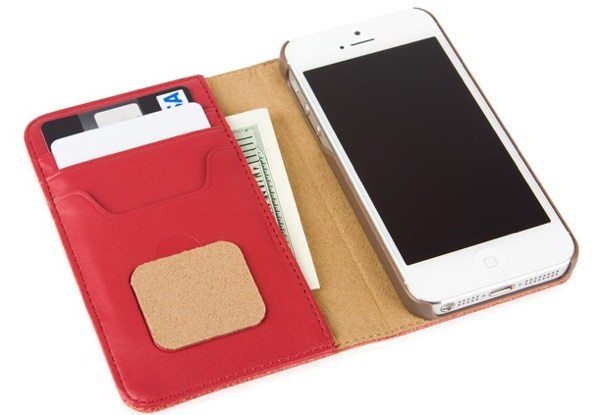 Although we usually focus on new smartphones and tablets we also like to bring readers news about accessories and today we have details of a rather nifty case for iPhone 5, the Moshi Overture wallet case. Often as we dash out of the door we grab our wallets and smartphones but this case avoids the need to carry these items separately. When you think about it, it makes perfect sense these days to combine a wallet and phone case into one so read on for more info on the Overture iPhone 5 wallet case.
This is a very good-looking sophisticated case for the iPhone 5 and manages to look slim and stylish while also having enough space for wallet functions. The case gives all-around protection to your iPhone 5 from the bumps and bruises of everyday life but also offers easy access to the buttons and camera of the iPhone for practicality. The frame is made from strong polycarbonate with a Terahedron microfiber lining and it also has a Neato washable microfiber pad for cleaning the display of your phone.
As well as this this wallet case has a full-length inner pocket and also has three card slots for credit cards, ID card etc. It should be pretty easy to keep looking good too as the outer surface has been treated to be splash repellent and the synthetic fabric can be cleaned with commercial leather cleaners while the inner lining can be cleaned with a damp cloth and suede cleaner.
The dimensions of the Moshi Overture wallet case for the iPhone 5 are 12.6cm x 7.2cm x 1.6cm and it comes in three color options, Metallic Black, Sienna Orange and Falcon Gray. It's priced at $44.95 so it's not cheap but remember this includes wallet use as well. You can see more or order the Moshi Overture wallet case at this Moshi product page.
We'd like to hear your thoughts on this Moshi Overture iPhone 5 case. Do you think this is reasonably priced considering what it offers? Maybe you've already decided to make this your next accessory purchase? Send in your comments on this.