Nokia Lumia 920 impressive video kills iPhone gorilla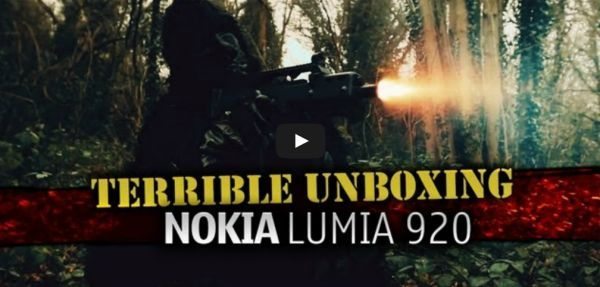 It seems that Apple is at the brunt of many digs in the side at the moment, there is always competition in the smartphone industry and you have to agree sometimes it is all war in business. The latest dig does not come via Nokia but by International House of Badman YouTube channel by way of a video.
The video shown below has been titled 'Terrible Unboxing – Nokia Lumia 920' and we actually love the way the video was filmed, the ending is a little harsh but the part that sticks out the most is when the Nokia Lumia 920 kills the iPhone gorilla, does anyone love the iPhone anymore?
There are many unboxing videos to watch and to be frank most of them seem to be the norm with the phone being taken out of the box and someone babbling on and on about the specs etc.
This video is unique and well worth watching, The Nokia Lumia 920 saved a mans life who was being shot at by a gorilla with a assault rifle, the man wakes back up who was shot and throws the Lumia smartphone at the gorilla, which then cause mass destruction, goodbye gorilla and iPhone.
Please watch the Nokia Lumia 920 impressive video that kills the iPhone gorilla, and please do let us know what you think of the video provided below.