Nexus 5 possible FCC spot and inspired concept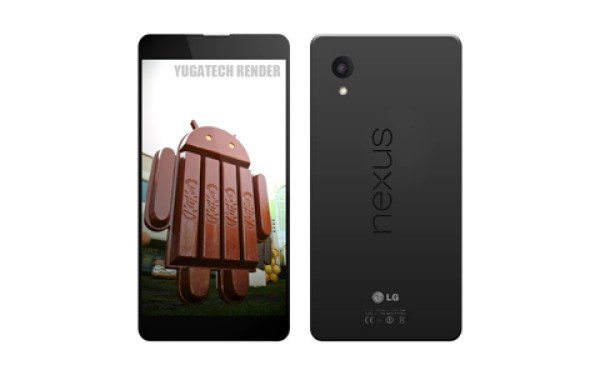 The Google Nexus 5 smartphone is the subject of a lot of anticipation among those waiting for it to be officially announced. The launch and release is moving closer all the time with news today of an FCC appearance that looks to be the Nexus 5. We also have a concept design to show you that was inspired by a recent possible spot of the handset.
One of the highlights of Nexus devices is that they run pure vanilla Android, and until a few days ago many of us expected the phone to release running Android 5.0 Key Lime Pie. However, Google then announced that the next iteration of the operating system would instead be dubbed Android 4.4 KitKat, a move that surprised plenty of people.
In the usual fashion Google then unveiled an Android KitKat statue outside its headquarters and promptly posted a video of the big occasion with Google employees welcoming the statue. Two days ago we then told of a possible spot of the Nexus 5, with the reveal of a mystery Nexus device being held by an employee.
This looks very likely to be the Nexus 5, a large handset that shows Nexus branding on the reverse. The manufacturer of the phone has been variously speculated but one of the main contenders was LG, and on close inspection the device caught on video seems to carry the LG logo too.
Everything looks set for a big reveal of the Nexus 5 very soon then, and now there is further evidence of this. A device that could certainly fit the bill of the mystery Nexus phone spotted has just been passed by the FCC, and of course this could be the Nexus 5.
FCC documentation shows a large camera, as on the phone recently spotted, as well as a curved back. The model number is D820 and it has a 4.96-inch display. It supports 7 LTE bands (2/4/5/17/25/26/41), and surprise… it's made by LG. Bands shown would be compatible with various carriers including AT&T, Sprint and T-Mobile.
Other details revealed are Bluetooth 4.0, NFC, dual-band 802.11 b/g/n/ac, CDMA/EVDO rev A, pentaband DC-HSPA+ and quadband GSM/EDGE, according to S4Gru. Dimensions are revealed as 131.9mm x 68.2mm and other details infer that the Snapdragon 800 quad-core processor is powering the handset. It will of course run Android 4.4 KitKat.
Although it cannot be confirmed that this is definitely the Nexus 5, we would be very surprised indeed if it turns out to be anything else, as it fits everything we've recently head about the device. In further news, Yugatech has quickly come up with a concept render of the Nexus 5 inspired by the device spotted outside Google HQ.
You can see the concept design of the Nexus 5 below that gives an idea of what the phone could look like. Android KitKat has now been announced, the mystery device spotted, and Nexus 4 stocks are running dry, so all the implications are that it won't be too much longer until we see the launch of this device.
Are you hopeful that this FCC spot is the Nexus 5? Do you feel the concept design here is a good reflection of what might be on the way? Let us have your Nexus 5 comments, as it's always good to hear opinions of readers.