Samsung Galaxy S5 pre-orders open on Verizon, get one free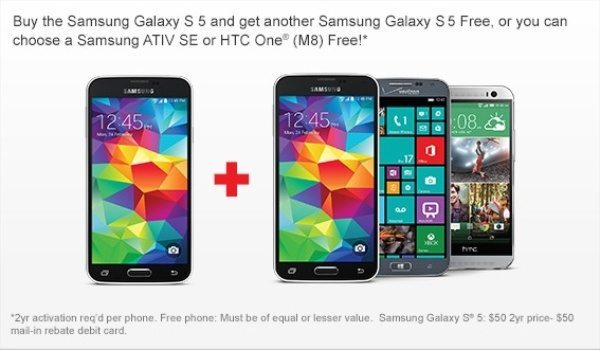 The Samsung Galaxy S5 is generating plenty of interest ahead of its widespread release and today we have great news for Verizon customers. Samsung Galaxy S5 pre-orders have opened on Verizon, and there's an added incentive to purchase from Big Red. If you buy one Galaxy S5 you'll get another free!
All of the major US carriers will all be offering this smartphone and pre-orders have already been available on AT&T, Sprint, T-Mobile and US Cellular. Verizon had a similar promotion available recently when the HTC One M8 launched, and so customers will be pretty pleased to hear this kind of deal is on offer again for the S5.
The Galaxy S5 Verizon price is $199.99 on the usual two-year contract (the same as for other carriers) or you can buy using a Verizon Edge plan at $25.55 monthly. Those signing a 2-year contract per phone/device line can get another S5 free, or if you feel like mixing it up a bit you could opt for your free handset as the HTC One M8 or Samsung Ativ SE instead. The phone is set to release on April 11th, and there is likely to be huge demand.
While you're waiting you may be interested in a recent rather unusual test involving the Galaxy S5. Head to the Verizon source link below if you want to take advantage of pre-ordering the S5 from Verizon. Will you be buying the Samsung Galaxy S5 from Big Red, or do you wish your carrier was offering a free handset?
Source: Verizon Wireless