Galaxy S5 vs iPhone 5S speed test provides differing results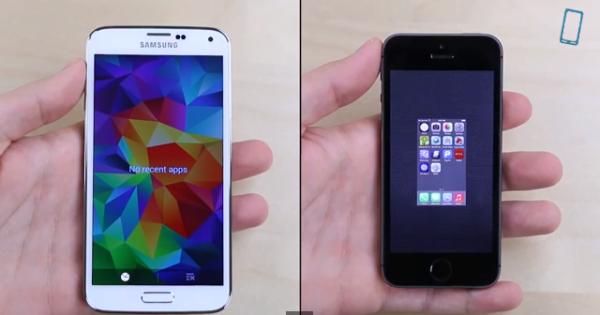 The Samsung Galaxy S5 became available to consumers across the world yesterday and the arrival of the device will heighten the argument of which is the best smartphone currently available. We now have a video for you of the Galaxy S5 vs. iPhone 5S in a speed test that provides differing results.
We have covered both of these phones a lot lately and you can read these articles here and here, but the YouTube video we have for you today is doing a speed test on the two handsets. It has to be remembered that the Galaxy S5 does have a larger screen at a higher resolution so some of these tests reflect this.
The video is almost 4 minutes long and shows the speed of the two devices using a number of different applications and features, and tries to find out which device is actually faster in the real world.
Both handsets have been rebooted to begin the test and are sharing the same Wi-Fi connection, and certain apps open more quickly on the Galaxy S5 while others are quicker on the iPhone 5S. We won't spoil the results for you but watch the full video and tell us what you think in the comments section below.