Sony Xperia Z2 vs HTC One M8 specs rundown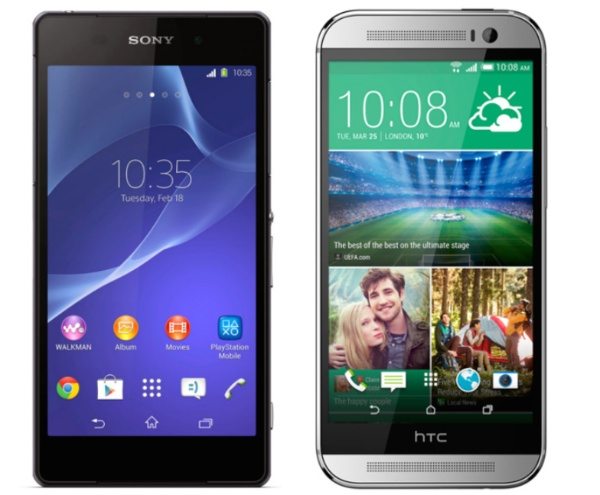 The HTC One M8 and Sony Xperia Z2 are new flagship smartphones to the market and are both Android devices. There has been big anticipation for both of these handsets and many people may have these on a shortlist. Today we're looking at the Sony Xperia Z2 vs. HTC One M8 in a specs rundown, to show how they compare and what they each have to offer.
Processors
The Sony Xperia Z2 has a 2.3GHz Qualcomm Snapdragon 801 quad-core processor and Adreno 330 graphics. The HTC One M8 has exactly the same arrangement, except that for some regions it steps up to a 2.5GHz variety.
Display
The Xperia Z2 has a 5.2-inch IPS LCD display with resolution of 1920 x 1080 and 424 ppi. The One M8 has a 5-inch Super LCD3 display with Full HD resolution of 1920 x 1080 and 441 ppi.
RAM and Storage
The Xperia Z2 has 3GB of RAM and 16GB of internal storage, expandable via microSD to 128GB. The One M8 has 2GB of RAM and 16 or 32GB of internal storage, also expandable to 128GB.
Camera Set-up
There's a 20.7-megapixel rear camera with autofocus, LED flash, and video capture of 2160p@30fps, 1080p@60fps, and 720p@120fps for the Xperia Z2, which also has a 2.2-megapixel front-facing camera. The One M8 has a 4-megapixel rear camera of HTC's Ultrapixel variety, with autofocus, dual-LED flash and video capture of 1080p@60fps and 720p@60fps. It also has a 5-megapixel front-facing camera.
Battery
The Xperia Z2 has a 3200 mAh battery while the One M8 has a 2600 mAh battery.
Operating System
You'll find Android 4.4.2 KitKat with the X-Reality Engine on the Xperia Z2. The One M8 also runs Android 4.4.2 KitKat, this time skinned with HTC Sense 6 UI.
Dimensions and Weight
The Xperia Z2 measures 146.8mm x 73.3mm x 8.2mm and weighs 163g. The One M8 measures 146.4mm x 70.6mm x 9.4mm and weighs 160g.
Color Options
There's a choice of Black, White or Purple for the Xperia Z2 while the One M8 comes in Gunmetal Gray, Glacial Silver and Amber Gold, with a Red option also rumored to be on the way.
Obviously this doesn't take into account the features and designs of both phones, but it will give you an idea of what you can expect. Both phones have the usual array of connectivity options for top-end smartphones, but we should point out that the Xperia Z2 is also dust proof and water resistant to IP58 standard.
If you want to check out much more on either phone head to these links for the Xperia Z2 or for the One M8. Taking into account the specs of each of these devices would you choose the Sony Xperia Z2 or the HTC One M8?