Samsung Galaxy S6 vs S5, S4, S3, S2 benchmark test compares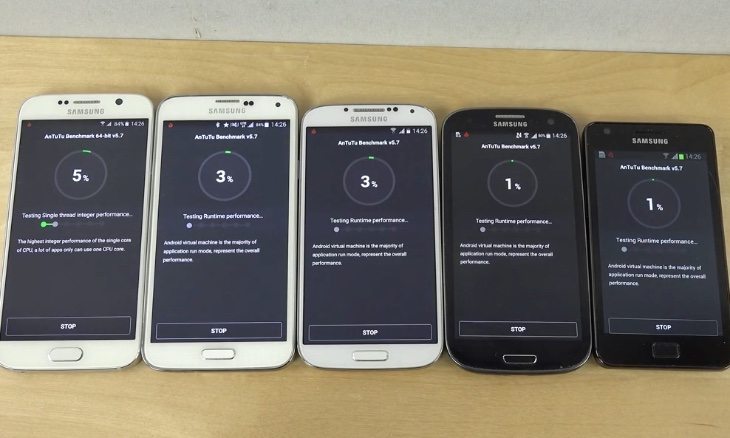 Something that can often be a point of interest is to see how new flagships fare against older versions in a line for one particular aspect. That's what we're taking a look at today with a Samsung Galaxy S6 vs. S5, S4, S3 and S2 benchmark test so that you can see how they compare. The latest and greatest from Samsung is certainly making waves right now, so let's see how it fares.
The new Galaxy S6 packs an Exynos 7420 octa-core processor (quad-core 2.1GHz and quad-core 1.5GHz) to power its 5.1-inch Quad HD resolution display. It runs Android 5.0.2 Lollipop with Mali-T760MP8 graphics and 3GB of RAM, so it should blast the benchmarking taking place in the video from YouTube below. The comparison displays the GS6 as well as the Galaxy S5, Galaxy S4, S3 and S2 lined up alongside each other.
It shows the AnTuTu benchmark test being conducted in full, and while that's taking place the reviewer runs through which processors are in each device. It's interesting to see how much slower the older models are in running the actual benchmark, and then the test actually gives up altogether for the S6 with the reviewer having to start it again.
Moving on to the scores there are notable gaps between the S5, S4, S3 and S2 for the different handsets, showing the advancements as each has released. Finally the test finishes for the Galaxy S6 and once again there's a significant step up between this and last year's flagship. We won't give all the scores here, as you might prefer to see when you view the video below.
When you've taken a look we'd like to hear your thoughts on this. Are you suitably impressed by the benchmark result of the Galaxy S6 when compared to the other Galaxy S phones? Send your comments to let us know.