Grab an Unlocked BlackBerry Passport at 50% Off for only $249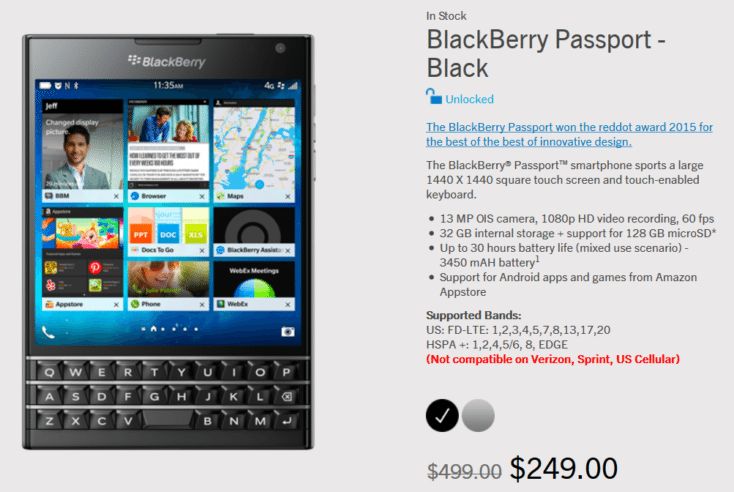 If you're old school and you're missing that nice feeling of owning a high end BlackBerry smartphone which runs on the actual BB10 operating system (as opposed to Android), today's a good day for you, as the Canadian tech giant is selling its BlackBerry Passport at a massive 50% discount. Basically, you can put your greedy little hands on a brand new, unlocked and loaded BlackBerry Passport for only $249. If you compare this figure with the actual $499 price tag of the device, you'll see that this deal is as good as it gets, provided you're an old school BB 10 fan.
The massive discount is available at BlackBerry's official online-store and the BlackBerry Passport is available in just one colorway, black. However, black is as cool as it gets for a BB device, I wouldn't even think about another color when it comes to a business smartphone. So, let's see what $249 buys, shall we? To begin with, the BlackBerry Passport has a relatively small LCD display as per today's standards, featuring a screen real estate of 4.5 inches. The resolution is 1440×1440 pixels and the smartphone runs on a Qualcomm Snapdragon 801 system on chip.
If you think that's antiquated, remember that this baby runs on BlackBerry 10 OS, not on Android, alright? And the quad core architecture with the CPUs clocked at 2.2 GHz means that the BlackBerry Passport is blazing fast. The GPU is an Adreno 330 and the amount of RAM on-board is a plentiful 3 GB. The internal storage capacity is 32 GB of which 25 GB are actually free, the rest being occupied by the OS and the native apps. There's also a micro SD expansion port, so there are no worries with regard to storing space. The main camera is a 13 MP variety with OIS, while the scondary is a 2 MP snapper, more than adequate for selfies and video chats, but remember, the BlackBerry Passport is a business phone, not a gadget. The battery is a beefy 3450 mAh power plant and the smartphone works only on T-Mobile and AT&T, remember that folks if you're living in the US.