Vivo X9 leak reveals design and specifications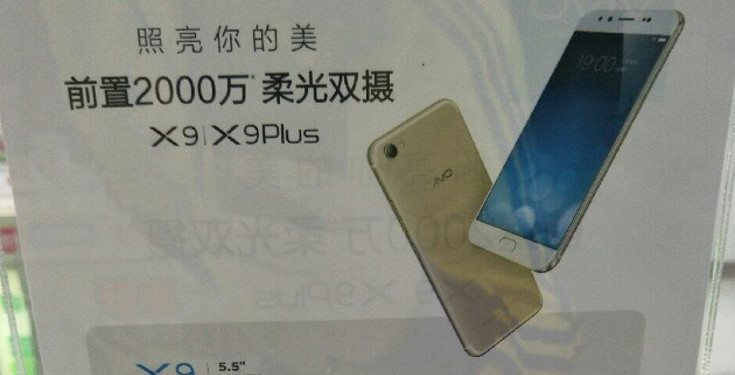 Last week we learned the Vivo X9 would be revealed to the world on November 16th. We have also seen quite a few leaks regarding the smartphone's specifications, and today we're getting another that looks to be of the official variety.
Compared to other smartphones and slates we've covered this year the Vivo X9 and Vivo X9 Plus have been fairly quiet on the leaks front. We heard it would have a unique selfie sensor and we've seen a couple of leaked renders as well. Today's rumors have a bit more clout considering they come from leaked marketing material.
Companies can advertise their wares in many ways including posters. Someone snapped a photo of a promotional piece for the Vivo X9 and X9 Plus. Thanks to some translation, we now have a clearer picture of the device… literally and figuratively. The sensors and slots shown in the new photos line up with the leaked pics, so the design appears to be locked won. They will be big and thin with a fingerprint scanner on the home button.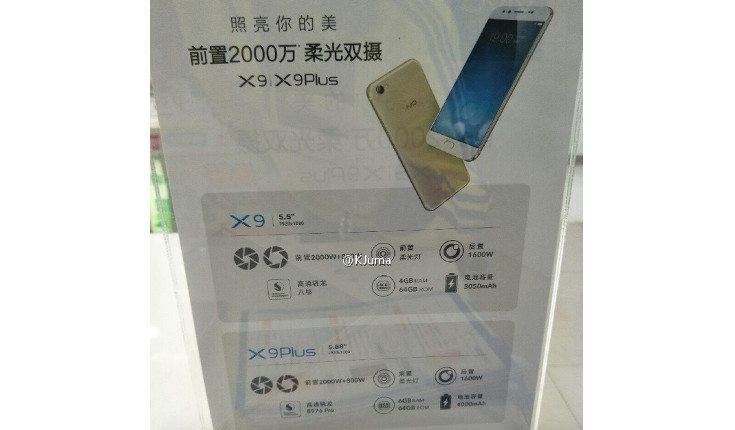 As for the specs, both will have 1080p displays with the base model coming it at 5.5-inchs and the Vivo X9 Plus listed at 5.88-inches. The similarities extend even further with a Snapdragon 653 processor, 64GB of storage and a 16MP rear camera. The front-facing camera has a 20MP and 8MP sensor, so it's safe to say it will take killer selfies. The only other difference is with the battery and RAM as the Vivo X9 has 4GB and a 3,050mAh battery while the Plus rolls with 6GB of RAM and a 4,000mAh juice box.
As mentioned, the Vivo X9 and the X9 Plus will be announced on November 16th. The price and availability outside of its homeland is up in the air, but we will keep you in the loop as more details surface.