New Nokia Android phones 2017, more than a handful tipped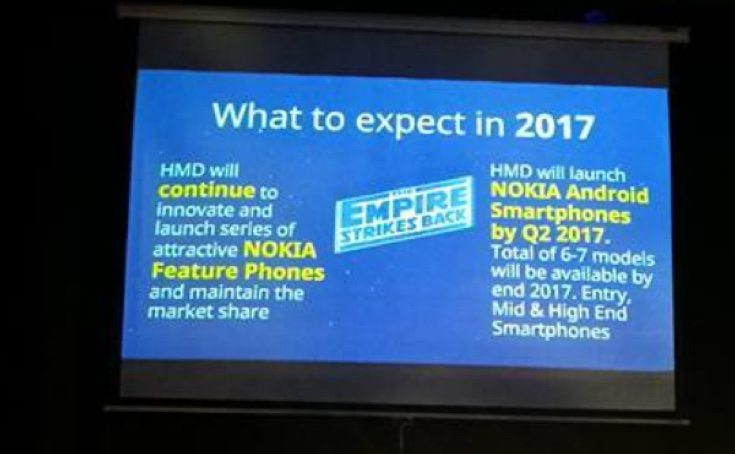 Leaks about upcoming Nokia Android smartphones have been brewing for some time. There is plenty of interest in what might be brought to the table and there have been previous rumors of up to four handsets set to release in Q2 and Q3. Now a leak about new Nokia Android phones implies that there will be more than a handful in 2017.
The new leak comes from a Malaysian distributor and a slide presentation. Some of the slides were posted on Facebook and one of them is particularly interesting. Instead of a possible four new Nokia smartphones on the way, it appears that 6 or 7 handsets will be launched by HMD Global. These will cover all price points from low-end to flagship devices, so there should be something for everyone.
Last month a leaked landing page confirmed new Nokia Android phones on the way and we've also reported on murmurings about a high-end smartphone dubbed the Nokia P. Unofficial specs for the device have mentioned a 23-megapixel rear camera with Zeiss lens, a mighty 6GB of RAM, Snapdragon 835 chipset, and Android Nougat out of the box. Leaked images also suggest it's a sizeable handset of the phablet variety but of course this all belongs firmly in the rumor category at this stage.
At least one more flagship has also been rumored and others tipped to be on the way first are Nokia D1C variants and the E1. It's interesting then that the leaked slide indicates more devices than were previously rumored. Referring specifically to Nokia Android smartphones by Q2 2017, the slide also says that a "total of 6-7 models will be available by end 2017." We'd say it's likely that at least some of these will be revealed as early as MWC 2017 in late February. The slide also points out that HMD will continue to launch Nokia feature phones.
We'll continue to keep you in the loop with developments on these new Nokia Android phones 2017, so do check back with us for more. Are you keenly waiting for a new Nokia smartphone?
Via: NPU