UMIDIGI BTA9 Wireless Earbuds Review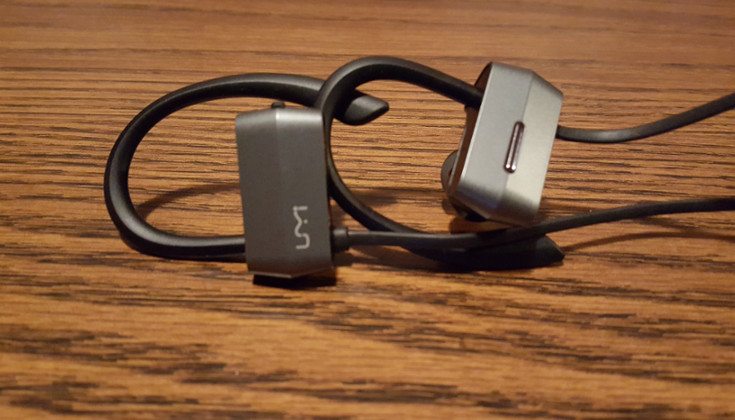 Wireless headphones are a tricky beast to tackle. We recently received the UMIDIGI BTA9 Wireless Earbuds for review, and after spending some time with the funky looking earbuds, we are back to share our thoughts.
UMi has undergone a bit of a rebrand lately. They are now known as UMIDIGI, and their products have slowly started to trickle out to the states. We took a look at the UMi BTS3 Bluetooth speaker back in November and now we are back with a review of another audio accessory. Needless to say, we put this one through the ringer, and think you'll be surprised at how it performed given its price.
Design & Comfort
Let's face it, wireless earbuds usually aren't the sleekest – Airpods aside. The UMIDIGI BTA9 Wireless Earbuds are definitely a bit on the thick side and look a little beastly out of the box. There is an ear hook that goes over the back of each ear and you've got a short cord to keep them connected. That means they aren't 100% wireless, but also won't have to worry about losing one earbud like you do with the Airpods.
The hook was a bit long for my liking but that may depend on your head size. That said, my noggin is normal and of average size so take that as you will. It didn't make them any less comfortable, but could be an issue for some as we didn't really take these out for a jog on the trail. How comfortable these are will ultimately depend on your eardrums as some folks can tolerate in-ear headphones better than others. That said, UMIDIGI provides three sets of inserts, so there should be an acceptable size for most consumers.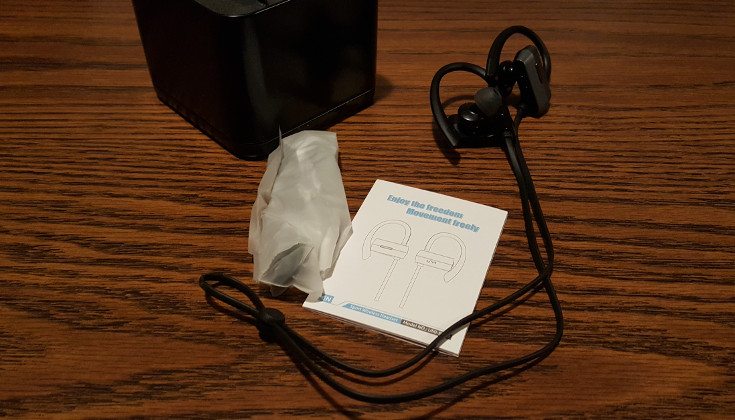 Features
You're not going to get a lot of "fun" features from headphones, even if they are wireless. The UMIDIGI BTA9 wireless headphones do have what's referred to as an MFB or multifunction button. This is how you power them on and off but also serves a few other purposes. You'll be able to answer or end a call through the button while the volume down button (long press) can reject an unwanted caller.
The only other buttons on the UMIDIGI Bluetooth Headphones are volume controls which are on the bottom of the right earbud. Volume Up is towards the back and lets you advance tracks with a long press, while Volume Down will do the opposite. I was unable to get that to work (Google Play Music, Pandora) but could go back to the beginning of a track. On that note, if you do want to pause or restart a tune you simply need to tap the MFB button on the side.
If you work out, the UMIDIGI BTA9 Wireless Earbuds are IPX4 rated which is said to be "Sweatproof" to a degree. It's winter, we did not put this to the test so we'll take their word for it. They connected with Bluetooth 4.1 and have CVC Noise Cancellation which worked quite well. The built-in MIC was fine as well although I did have a few people complain the background noise (TV, wind, etc…) was overpowering compared to taking a call normally through my handset.
Sound Quality
This is where things get a little tricky in our UMIDIGI Bluetooth Headphones review. There are many things to take into account when testing headphones, especially in-ear setups. I compared these against the standard Samsung headphones that come with the Galaxy S6 Edge Plus, which is what I've generally used for daily use. They are wired, but sound great as most Galaxy owners can attest. The UMIDIGI BTA9's are on pair with the earbuds from Sammy when it comes to the sound, just make sure you have them "seated" tight in your ear fairly tight.
The volume on these gets quite loud and has a beep to let you know when you are at max or nearing "dangerous" levels. As someone who's had their eardrums rattled in their youth by large Kickers, I was able to max this one out on 2001 from Dre and it stayed clear even at maximum power. The bass isn't going to knock your socks off, but you don't need it to… they are earbuds after all. Overall, they quality was better than expected, but nowhere near Bose or Airpod levels.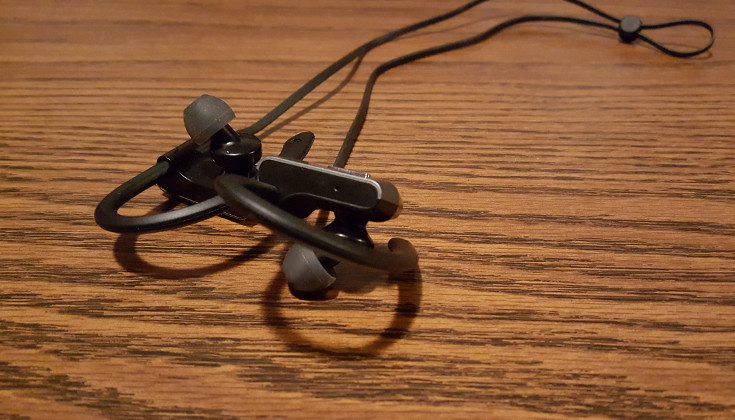 Battery Life
One nice surprise from the UMIDIGI BTA9 Wireless Earbuds was the battery life. The company claims they will go up to 6 hours on a single charge or 160 hours of standby time. I did not fully put it to the test, but can say that I let these suckers play on a loop and my phone died before the headset did. I would estimate over 5 hours and they weren't fully topped off from the charger. The charging time seemed snappy as well and the tiny port is capped on the back of the left side.
Verdict
I was very on the fence about the UMIDIGI Bluetooth Headphones when they first came in. While I don't have sensitive eardrums, I'm picky about headphones and have never been a fan of anything too wild. The UMIDIGI BTA9's were solid in the sound department, and while I personally don't dig the style, they were comfortable once I got used to them.
There was no "hardcore" exercising, but lots of dog walking, a bit of weight lifting and plenty of general usage over the holidays. The UMIDIGI Bluetooth Headphones never popped out of my ears during those times which was an obvious bonus as is the amazing battery life. That said, those ear hooks and the overall design could definitely be improved on future models.
In a nutshell, you're going to be hard pressed to find a pair of wireless earbuds that have the sound quality and battery life of the BTA9's given their price. At this time, they are currently listed at $22.99 through Amazon if you're interested in giving them a shot.