Samsung Galaxy S6 update to Android Nougat gets closer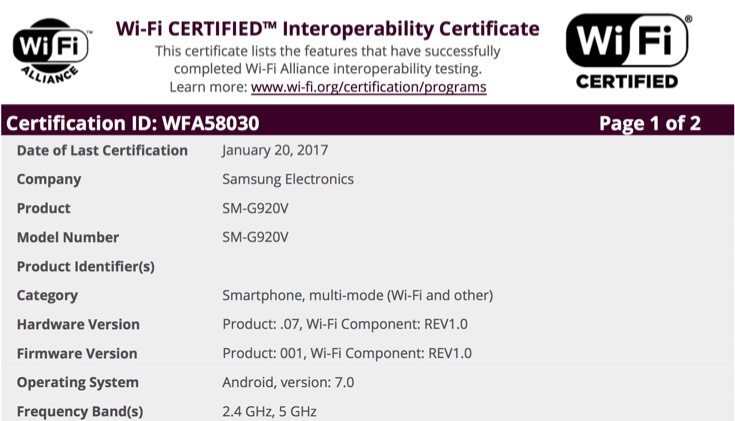 One of the questions we are most asked concerns the Android 7.0 Nougat update and when it will arrive for particular smartphones and tablets. Major Android updates usually take various amounts of time to reach different devices and this can cause a certain amount of frustration for users. There's promising news today though, as the Samsung Galaxy S6 update to Android Nougat is getting closer.
Just last week Samsung issued an official list of mobile devices that will be receiving the Android Nougat update. Just some of those included on the list were the Galaxy S6 and its 'Edge' variants as well as the Galaxy Note 5. The company did not provide specific release dates for the update but did indicate that it would be arriving in the first half of this year. Now news from the Wi-Fi Alliance gives hope that it won't be too much longer until Nougat reaches the Galaxy S6.
Work has been underway on this update for the G6, and now the Wi-Fi Alliance has just approved certification for the Samsung Galaxy S6 Nougat update. Samsung still has not confirmed an actual release date and it's worth noting that it could still take weeks or even a month or so before the update is actually released. However, at least we know that everything is going smoothly and the Nougat arrival is edging closer.
Although the certification only applies to model number SM-G920 it's a good sign that the update will also be ready for the G6 Edge before too much longer. The Marshmallow update started rolling out for the Galaxy S6 line-up in February last year, so it could be the case that the Nougat update will appear at around the same time this year. We'll be sure to let you know about the Samsung Galaxy S6 update to Android Nougat as soon as we hear it. Do check back with us from time to time and in the meantime let us have your thoughts on the progress of this update.
Via: SamMobile