Samsung Galaxy Tab S3 specifications include the Snapdragon 820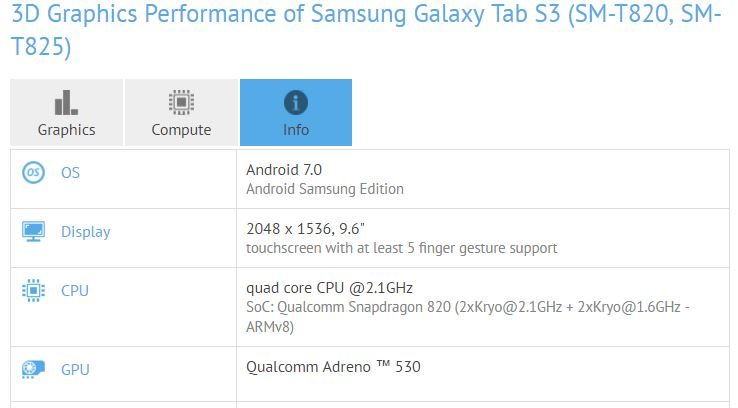 A great deal of time is spent discussing handsets here on Phonesreview.co.uk, but we have always had a soft spot for slates. The Samsung Galaxy Tab S3 is officially on our radar as it has just rolled through the benchmark listings with solid specifications.
Samsung may have missed a step last year, but they are going to make their presence felt in 2017. While we aren't sure how their slates will stack up against the competition, a new one has reared its head in the Samsung Galaxy Tab S3. The tablet has passed through the old benchmark listings over at GFXBench leaving a trail of breadcrumbs in its wake. Unlike some handsets with a secret moniker, we know what this one will be called so let's dig into the Samsung Galaxy Tab S3 specifications.
According to GFXBench, the Samsung Galaxy Tab S3 that's shown up is a model with a 9.6-inch display. It sports two model numbers with SM-T820 and SM-T825, which means a variant is coming along for the ride as well. As for the resolution, the Super AMOLED panel will arrive with a res of 2,048 x 1,536. The processor powering the show is the somewhat dated, but still sufficient in the Snapdragon 820 which comes with the Adreno 530 GPU.
When we delve a little deeper, we see the Samsung Galaxy Tab S3 is going to get a nice boost with 4GB of RAM. The storage is listed at 32GB but you'll only have 24GB to work with after the OS, so be thankful for the microSD card slot. One nice surprise is in the camera department as the Samsung Galaxy Tab S3 specifications show a 13MP sensor on the back side with and LED flash. The front-facing camera 5MP, but more than sufficient for selfies on a slate.
It is anyone's guess as to when Sammy will show off the Samsung Galaxy Tab S3. MWC 2017 is an obvious choice although they could just hit the streets without much of a formal announcement. Regardless, we expect to learn more about the Samsung Galaxy Tab S3 and its siblings in the coming weeks ahead.
via – SamMobile