2017 Samsung Galaxy A3 and Galaxy A5 UK prices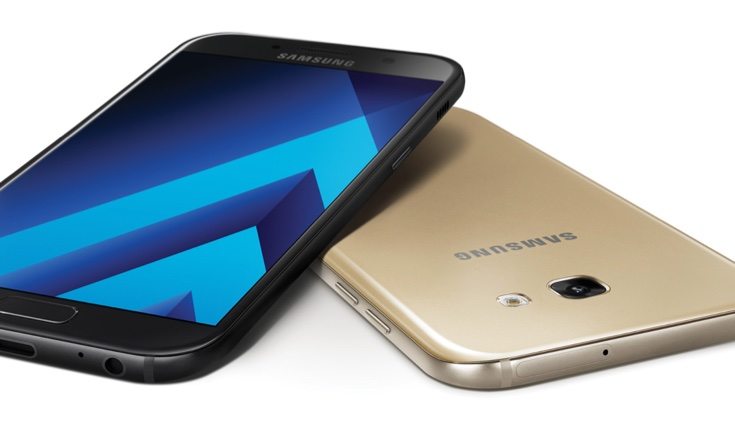 Not everybody wants or needs the latest high-end smartphone and there are two new Samsung budget phones that have just arrived on sale in the UK. Read on for the 2017 Samsung Galaxy A3 and Galaxy A5 UK prices at launch. Both are available from Samsung's online store as well as some carriers and retail outlets.
The latest editions of these popular Samsung smartphones are available in several colour options. At the company's online store the Samsung Galaxy A3 (2017) and Samsung Galaxy A5 (2017) are up for grabs in Black Sky, Blue Mist, Gold Sand, or Peach Cloud choices for £279 or £369 respectively. We'll recap some of the key specs of these new Samsung smartphones.
The 2017 Samsung Galaxy A3 is a lower-end device with a 1.6GHz Exynos 7870 octa-core processor and Mali-T830 graphics. It has 2GB of RAM and a 4.7-inch display with HD resolution of 1280 x 720. The phone has a 13-megapixel rear camera with an 8-megapixel shooter up front. It has a 2350 mAh battery (non-removable). The handset measures 135.4mm x 66.2mm x 7.9mm, weighing in at 138g.
On the other hand you might want to step up a notch to the 2017 Samsung Galaxy A5. The phone has a similar design to the A3 but has a larger 5.2-inch display, this time with Full HD resolution (1920 x 1080). It has a 1.9GHz Exynos 7880 octa-core processor, 3GB of RAM, and a bit more battery capacity at 3000 mAh. The Galaxy A5 (2017) also steps up to a 16-megapixel camera for both the front and rear. The handset measures 146.1mm x 71.4mm x 7.9mm and weighs 159g.
Both of these Android smartphones are dustproof and water-resistant to IP68 certification standards. The Galaxy A3 2017 has 16GB of internal storage while the A5 2017 has 32GB of internal storage (both expandable via microSD to 256GB). Are you a UK buyer who has been waiting for the release of the 2017 Samsung Galaxy A3 or A5?
Source: Samsung – Galaxy A3 (2017) or Galaxy A5 (2017)