MOTORAZR V3i Dolce & Gabbana Designer Phone
Yes it happened before the phone makers Motorola joined hands with designer D&G and produced a RAZR V3 so it had to happen again and here it is in the form of the MOTORAZR V3i Dolce and Gabbana. This is a very stylish and unique mobile phone that is an accessory every fashion stated person needs.
This mobile phone stands out and this is because of the striking gold that glints in the daylight which all eyes will turn once shown, this mobile phone from the 2 major companies hosts some good features such as D&G ringtones, screen savers and wallpapers plus has a 1.2 megapixel camera which is pretty standard really on most phones.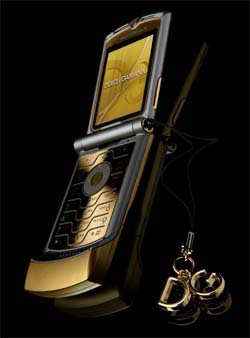 Features/Specs —
– 1.23 megapixel camera — 8 x digital zoom
– Full screen view finder
– 12MB built in memory
– mini USB stereo headset
– Micro SDTM memory cars
– MMS Messaging
– MP3 ringtones
– J2METM games
– Bluetooth — Peer to Peer gaming
– Airplane Mode
– Voice Activation
– Caller ID with picture
– Quad Band Global GSM coverage
– GPRS
– Hands Free speaker phone
To add more glamour and fun to your fashion wear they are throwing in a glamorous and exclusive D&G pendant.