Samsung X700: The Attractive Phone that has Style
Samsung seem to be designing new phones left right and centre and this one is quite a nice looker, this is the attractive X700 mobile phone that is built with quality in mind for example when you hold some phones you can hear them creek and crack if held to tight but not with this phone you do not get this.
The phone is pretty lightweight at 95 grams considering all the specs it has which are shown below, it has a 1.3 megapixel camera that I must say takes very good pictures not the best in the world but no where near as bad as I have seen.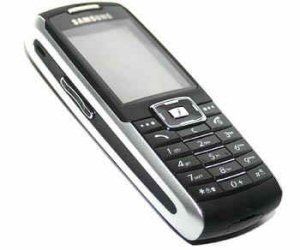 The design is very sexy with the sleek black body and the silver shiny edges it does look the business, its stylish and fashionable, you can listen to music on the go with the fantastic MP3/AAC/AAC+ player and FM Radio, the sound quality is very good indeed.
SAMSUNG SGH X700 Features/Specifications —
– TFT Display, 256K colors – 176 x 220 pixels with screen size of 1 ¼ x 1 ½ inches
– Polyphonic and MP3 Ringtones
– Vibration
– Stereo Speakers
– 1000 x 12 fields, Photo call — Phonebook
– Bluetooth v1.2
– USB
– SMS, EMS, MMS & Email messaging
– WAP 2.0 — xHTML
– microSD Card Slot
– 35 MB shared memory
– GPRS
– EDGE
– Games – Forgotten Warrior, Freekick & Arch Angel
– 1.3 Megapixel Camera with 1280×1024 pixels,& video
– T9
– MP3 & AAC Music Player
– SyncML
– Organizer
– Built In Hands Free
– Voice Memo
– Java MIDP 2.0
– FM Radio
– Up to 7 ½ hours talk time
– Up to 450 standby time
– 108 x 44 x 19 mm
– 95 Grams
Is this the mobile phone for you? please leave all comments below.