Pantech PG3600V Mobile the iPod Looker
Pantech have brought to us a new mobile phone called the PG3600V which in many peoples eyes is a copy off the Apple iPod but personally in our eyes have to say why call it copy because if the design works on an iPod then why not emulate it on other products that have the MP3 player. It is not copying it is being clever, Pantech know for sure they will never beat the masters of iPod they just used a design that looks similar if you ask us.
The Pantech PG3600V mobile phone has a superb click wheel navigation control, the phone is black in colour which looks very nice and has an MP3 player which supports many file formats such as MP3, ACC and ACC+ the only downfall and not a major downfall is that it does not support WMA (ah shame but never mind).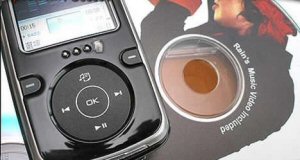 We have to say with Bluetooth A2DP surround sounds output which lets you listen to very good high quality music with the wireless Bluetooth headset is a very good key feature and selling point to this handset. It is basically and iPod in your pocket but without the name ipod engraved on it.
You get 1.3 megapixel digital camera and a TFT screen, another good thing about the click wheel is that not only is it easy to use with the music player but is also great for zooming in and out when wanting to take photos.
Do you love the Pantech PG3600V Mobile? And do you think this is trying to be a copy of the iPod? Please leave all replies in the comments section below.