Samsung D900 Mobile Phone Special Offers
Samsung D900 Mobile Phone Special Offers at The Carphone Warehouse are becoming unbeatable and as Christmas moves closer you know this mobile phone will make the best present anyone could ask for or why not buy yourself one in fact by yourself one and someone else one. The Samsung D900 is totally free if you buy on contract and there is a list at the bottom of offers and monthly line rental charges but first a little bit about the phone.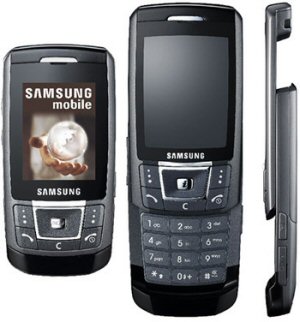 The amazing number 1 top selling phone at The Carphone Warehouse site is the sexy Samsung D900 which is a very nice slim slider phone and at only 13mm is pretty good indeed, the phone also weighs less than 100 grams which makes this phone not only small but also very lightweight.
So you can see by looking at the pictures on this page that the D900 is stunningly beautiful but what does the inside say, well for starters you get a very good and we mean good 3.13 megapixel camera which gets very high resolution pictures and also the feature of recording video clips to boot. The handset also has TV Output which means you can share the images when you are at home.

What about an MP3 player which supports AAC files and with the 80MB built in memory you know you can store what you please, there is also an expansion slot which means you can get more storage if you need to.
Other Special Samsung D900 Features —
– GPRS
– Colour Screen with High Resolution
– Music Player
– Vibrating Alert
– World Phone (Quadband)
– Picture messaging
– Bluetooth
– Document Viewer
This is a top phone with style, class and the workability that will blow you away, check out some of the special offers The Carphone Warehouse people have to offer —
CONTRACT (Pay Monthly Offers) —
T-MOBILE — Tariff Flext £35 a month 18 month — Up to 900 minutes & up to 1800 texts a month — 14 months HALF PRICE line rental — One months FREE insurance — Line Rental £35 equivalent to £17.50 during offer period — Samsung D900 Phone is FREE — Contract 18 months — Saving of £245 — VIEW OFFER HERE
O2 — Tariff O2 £35 10 month — 600 minutes & 100 texts a month (anytime to any network) — 10 months half price line rental — Line Rental £35 equivalent to £17.50 during offer period – D900 Phone is FREE – Contract 18 months — Saving of £175 – VIEW OFFER HERE
ORANGE — Tariff Dolphin £35 18 month — 500 minutes & 500 texts a month (anytime to any network) — 14 months HALF PRICE line rental – Line Rental £35 equivalent to £17.50 during offer period — Samsung D900 handset FREE — Total saving of £245 — 18 month Contract – VIEW OFFER HERE
YOU CAN ALSO BUY THE SAMSUNG D900 MOBILE PHONE AS A PAY AS YOU GO OPTION FOR from £209.95 VIEW OFFERS HERE