Simply Stunning The Nokia N77 with DVB-H Mobile TV
The all new Nokia N77 will be released in Q2 of 2007 to all countries that offer DVB-H services, this phone even looks nice not alone what the inside of the phone offers. Correct me if I am wrong but I can see the N77 with DVB-H Mobile TV doing pretty well.
The Nokia N77 will boast up to 2GB of memory plus a 2 megapixel camera and oh yes live TV and en riched music with the Visual Radio facility, the N77 will support MP3, AAC, AAC+, eAAC+ and WMA which means there is no music that cannot be listened too.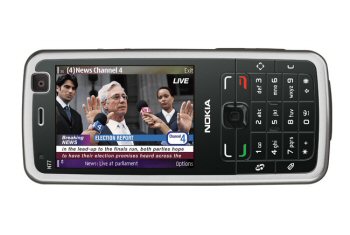 There is a 3.5mm connection port which means normal headphones can be used, the screen size is an impressive 2.4 inch flat screen with 16 million colours which well gives you a very good picture. So not only can you listen to music you can even watch live TV and the Nokia N77 will work on 3G (WCDMA 2100 MHz), EDGE and GSM (900/1800/1900 MHz) networks.
Phones Review gives the Nokia N77 a big thumbs up.
Via – Engadget Mobile