VoIP Netgear Skype Dual Phone No Computer Needed
This is the brilliant Netgear SPH200D Skype Dualphone, and what is good about this one is you do not need to turn the computer on. This is a phone where you get Netgear and Skype together which then combined gives you a phone that operates as a normal landline phone.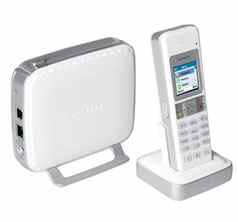 You just simply plug this cordless dual mode phone base station into your broadband router being it wired or wireless using Ethernet ports, and this allows you to make free Skype calls. You can even plug the VoIP Netgear Skype Dual phone into a normal phone line to make land line phone calls. You get the base station, cordless VoIP phone and a recharge docking station.
– PC Compatible (Windows XP) and MAC.
– Connects to Any Broadband Router VIA LAN Cable
– No Computer Required!
– £ 179.99
Via — i-voip.co.uk