Slim 2007 Nokia E65 Mobile Phones Rocks our Boat
The Nokia E65 slider phone part of the Nokia E Series is a very good addition, we played around with it for a couple of days and really liked it. We found all good point and not bad which is good for you really. Yes we do get off on finding faults with mobile phones sometimes it breaks the day up but I am afraid this one is a must buy situation. Good old Nokia.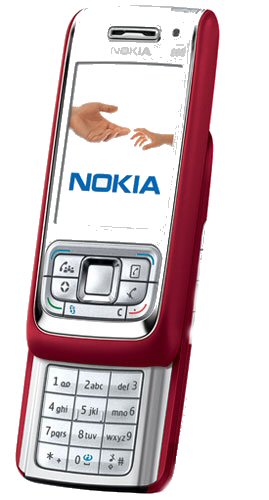 The Nokia E65 is jam packed with features that will rock your boat as well as it rocked our boat, the display with 240 x 320 pixels and 16 million colours gives you a nice picture, plus a five way scroll key helps you navigate with ease. This handset which comes in either black or red in colour also has polyphonic and MP3 ringtones and even downloadable as well, microSD (TransFlash) and hotswap card slot, 50 MB shared memory (built in) and 2 MP, 1600×1200 pixels, video(CIF) camera that in fact did take nice pictures.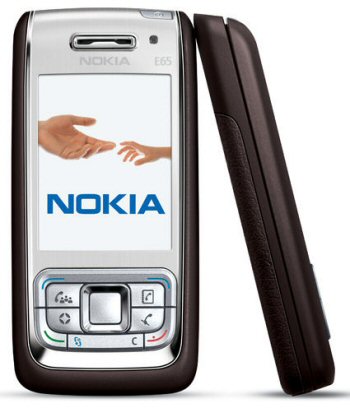 Other Nokia E65 Specifications —
– 105 x 49 x 15.5 mm – 115 grams
– Vibration
– Symbian OS 9.1, Series 60 UI
– Java MIDP 2.0
– MP3/AAC/MPEG4 player

– Office applications, Voice command/memo, PIM including calendar, to-do list and printing
– Push to talk, T9 & Integrated handsfree
– GPRS, EDGE, WLAN, HSCSD, 3G, Infrared port, Bluetooth and USB (pop port)
– MMS, Email, SMS Instant Messaging
– Games
– WAP 2.0/xHTML & HTML
– Standby time Up to 265 hours
– Talk time Up to 6 hours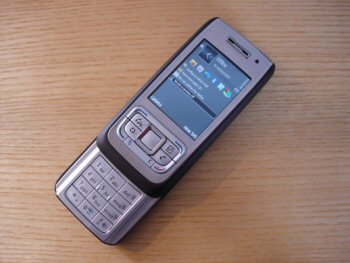 All in all we here at Phones Review love this phone and do recommend it. To all readers that come here if by any chance you already have the Nokia E65, it would be great if you could give us a run down of what you think of this mobile phone. Please do use the comments area below and let us know what you think. Thank you so much.
Why not take a look at these stores below for great Nokia E65 deals –
1) The Carphone Warehouse