Make way for the all new Phones Review Forum
The title says it all, "yes make way for the all new Phones Review Forum". We have decided to add a new addition to Phones Review which we believe will become very successful for all our Phones Review returning readers and new readers.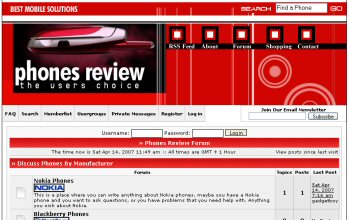 The forum allows you to come in and have your say and discuss on, Phone Manufacturers, Service Providers in the UK and International, Latest News & Technology, Home & VoIP phones plus Phone Stuff like, Graphics & Wallpapers, Bluetooth Accessories, and Phones for Sale/Wanted, Phone Games, Ringtones, Phone Hacks, Phone Scams and Phone Coupons.
We also have a great discussion area where you chat about Mobile & Home Phone Internet Bargains and a place where you can add a new topic about your Website or Blog. There is a really cool discussion area called "The Phones Review Chatter Box" and this area is for you to chat about anything you like other than home or mobile phones.
We here at Phones Review wish to say "Welcome to our new forum" and we really do hope you enjoy yourself. Spread the word about the NEW FORUM and start adding your very own topics.
To join the Phones Review Forum is completely and utterly FREE all you need to do is register by following the easy online instructions that take no more than 1 minute. So get started and have you say — REGISTER HERE FREE