Cool and Sexy looking Motorola ME 4052 Quad Dect Home Phones
The cool and sexy looking Motorola ME 4052 Quad Dect home phones which are cordless have to be in the category of sexy looking home phones surely. These Motorola home Dect phones have a range of between 50 to 100 meters and of which more multiple handsets are available.
They have caller display (subject to network selection), hands free facility, multi handset facility and name and number memory of up to 40, 10 different ringtones, mute button and even a pager. We must say thou that they do not have answer phone facility. You can pick these little cuties up for £69.99.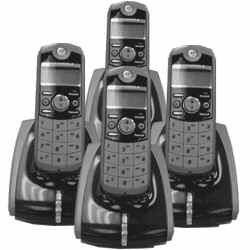 See more on these Cool and Sexy looking Motorola ME 4052 Quad Dect Home Phones
Via The Carphone Warehouse