Stolen in Sixty Seconds will you break the mobile phone law?
Breaking the law is a criminal offence and we recommend you do not pursue your career in such behavior but hey what the heck this one is all about fun just don't make this one reality (DO NOT get sucked in).
Stolen in Sixty Seconds or like the creators have put it $tolen in $ixty $econds is a mobile phone game with some serious sh** happening, This is a high octane mobile phone game that will let you seek out executors of intended robbery and supply them with an appropriate equipment even plan their bad activities.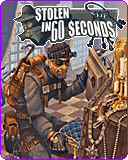 There are nearly 24 levels on this game and many tools of the criminal trade for you bad virtual thieves/crooks.
Get the FREE download demo – Stolen in Sixty Seconds