Motorola T305 BT Portable Bluetooth Hands Free Car Kit
If you want to enjoy the freedom of wireless connectivity and of which is very affordable, then the Motorola T305 BT portable Bluetooth portable Bluetooth handsfree car kit is just the number for you. The Motorola T305 has a cool sleek design that will not cramp your style and has superior audio capabilities and an intuitive feature set.
The Motorola T305 Bluetooth kit is palm sized and is optimized for the vehicle, using a mobile phone is as you know breaking the law, but with this little mobile phone accessory let's you have wireless conversations in your motor car. It is as simple as this you ready – Just clip, connect and go!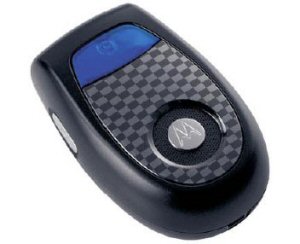 Main Motorola T305 BT Features —
– Clear sound & echo and noise cancellation technology
– Bluetooth wireless technology hands-free system
– Quick & Easy to set up with EasyPair
– Loud sound optimized for the vehicle
– High speaker output
– Visor clip and vehicle power adaptor included in the box.
– Use phone's voice dial capabilities to easily place calls.
– Up to 12 hours talk time
– Up to 200 hours standby time
– Mini-USB connector for easy charging
– One convenient multi-function button for multiple operations