Vertu Diamond $88,000 (£47,567): One of the most expensive phones
The Vertu Diamond collection is one of the most expensive mobile phones on the market, ok it is no where near the price of the Goldvish Le Million but it still is at the top of most exclusive luxury phones. The Diamond from Vertu is in the high end range of mobile phone handsets and if you have the money then this is the one to have. On a personal not we got our hands on one of these phones (no we did not buy it, we just felt it) and must say not for us.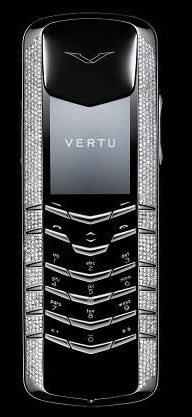 The Vertu Diamond collection handsets are diamond encrusted and made from platinum of which only 200 have been made. £50,000 for a phone what are you mad?
Vertu Diamond Specifications —
– GSM 900 / GSM 1800 / GSM 1900 Network
– Key switches with jewelled bearings
– Polyphonic Ringtones
– Vibration
– 1000 Entry Phone Book
– 220 calendar notes
– 100 SMS
– USB
– SMS, MMS & Email messaging
– Games
– Yellow, Blue, Red, Black, Brown & Tan (Colours)
– WAP Browser
– English, French, Italian, Chinese, German & Spanish (Languages)
– T9, Handsfree, Calendar, Calculator & Voice memo
– 122 x 42 x 15.5 mm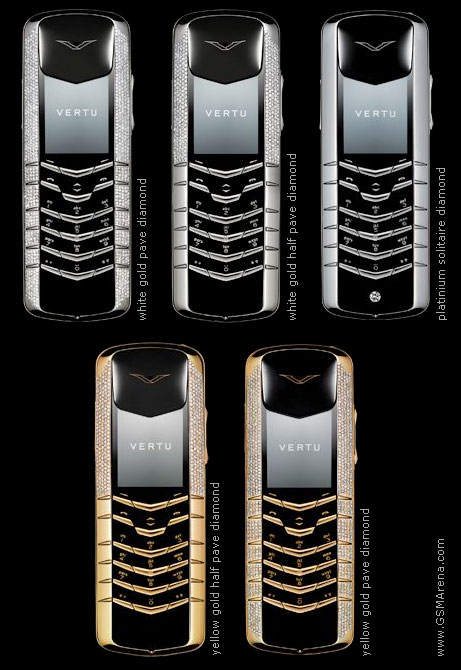 The Reason We Would Not Buy One —
1. Too Expensive
2. No Card Slot
3. No GPRS
4. No HSCSD
5. No EDGE
6. No 3G
7. No WLAN
8. No Bluetooth
9. No Infrared port
10. No Camera
Basically the phone is expensive and the specs are rubbish.