Vertu Signature Cobra: $310,000 (£167,567) Better Sell the Wife
The Vertu Signature Cobra is a very luxurious mobile phone which many people should keep in a vault, not take it out for everyday use. The Vertu Signature Cobra was designed by French jeweler designer Boucheron, to tell you the truth we have no idea on specifications, but then again who cares about specs it is your wallet you need to be caring about. At $310,000 that is a bank breaker (unless your stupid enough to buy one). The encrusted Cobra snake wraps itself around the front which gives the phone appeal.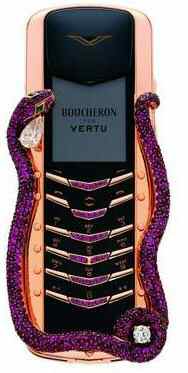 This is what you call mobile phone bling and bling with a capital B, this phone is encrusted with expensive rocks which are one pear-cut diamond, one round white diamond, two emerald eyes and 439 rubies (nice). The good thing about this is, if you cannot afford the dearer model you can buy a cheaper version for only little money of $115,000 (little money yeah right). Orders are limited to only 8 and only 26 Vertu Signature Cobra will be made for stupid ones who want to buy it.
If you know anything about the specifications on this phone, please do send them to us?