Apple iPhone up the ante with 8 hours Talk Time and NEW Glass Display
There have been many rumours of the Apple iPhone with a staggering 8 hours of talk time and a new glass surface, and we can say that it is true so throw away those rumours. Apple has upped the stakes or should we say ante which means other major mobile phone makers will be in trouble trying to compete.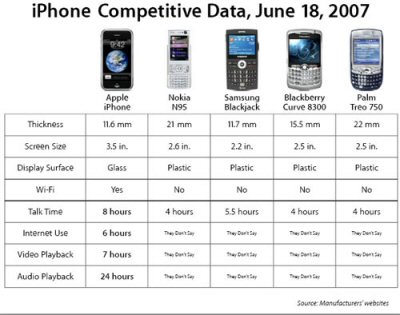 Yes my little iPhone lovers Apple are giving the stunning device 8 hours of talk time, 7 hours of video playback or 24 hours of audio playback, 6 hours of Internet use and a stonking 10 days of standby time, and if this was not enough they have upgraded the durable plastic display to a strong glass one. Apple today yes today said that they wanted to give the Apple iphone more battery life and this they have done, when the iPhone comes out on the 29th June 2007 this will make the handset sell so quickly especially now it has more battery life and a glass front.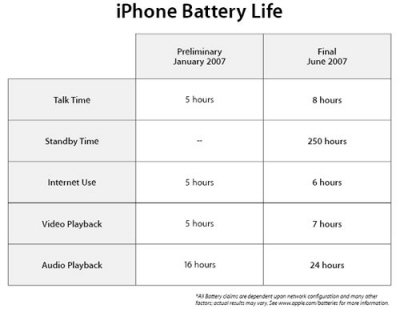 Pricing and Availability –
iPhone will be available in the US on June 29, 2007 in a 4GB model for $499 (US) and an 8GB model for $599 (US), and will work with either a PC or Mac(R). iPhone will be sold in the US through Apple's retail and online
stores, and through AT&T's select retail stores.
Source — Engadget Mobile