Nokia E Series Phones Counter Attack Apple iPhone
Nokia always want to be the best and with the launch of the stunning iPhone Nokia had to bring in a counter attack, Nokia said that they have moved up the North American launch of the E Series range of smart phones which are all business orientated. The three new devices which are the Nokia E61i, the E65, and the E90 which were originally rolled out February at the 3GSM conference in Barcelona will be available to U.S. companies through "complementary sales channels.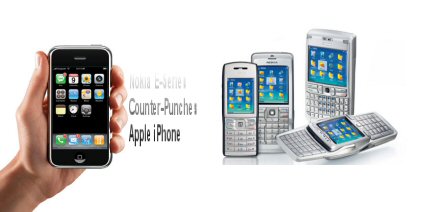 Nokia have a stunning 140 registered resellers who will resell the E-Series devices to their business customers, it seems like Nokia have done their homework but has Apple this is the question. The Apple iPhone is basically pointing in the direction of high end users whereas Nokia E-series devices are purely for the business minded. The new and stunning e series smart phones are high end of which the E61i is a very traditional looking phone which has so many feature (See Here), the E65 is a slider phone (See Here) and the E90 is our favourite, it is a flip up ultra mobile PC with a large screen and keyboard.

Will these Nokia E-Series phones overtake the iPhone?