EXCLUSIVE NEWS: Greg Packer the iPhone Fan is in fact a line sitter junkie
Remember we did a story called "How far would you go to get your hands on iPhone" about Greg Packer who is the first in line waiting for the iPhone, well you are going to love this EXCLUSIVE NEWS. We all thought Greg was a total Apple iPhone Fan when in fact resources say he his more like a line sitter fan not an iPhone fan. The not so iPhone fan is a totally obsessive linesitter because he was the first person to sign the condolence book at the British consulate when Princess Diana died, the first person to see Ground Zero when the viewing platform opened and first in line to greet President George W. Bush after his inauguration and get this he waited 8 hours to meet sensation Brandy.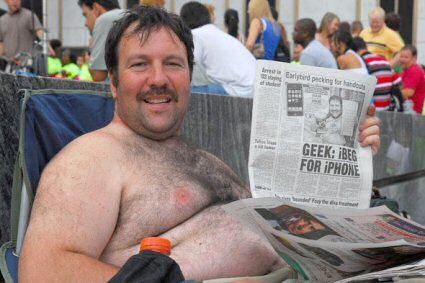 You know what I myself HATE standing in a queue at a shop for a max on 30 minutes not alone spend hours to days in lines, this man has clearly made it his profession, has he got a job we don't think so, so if he has no job how does he afford an iPhone (stumped so are we). Now get this one Greg has is own space in Wikipedia for god sake, what will this man do to become famous, oh yeah line sitting lol. Hey Greg has you ever thought of line sitting at a revolutionary complex for dieting magic formula, great advertising. To tell you the truth we love this man he is brilliant, Greg have fun and keep on doing what your doing because it makes a great story we love ya man.