Are Nintendo Partnering with iPhone for Exclusive Gaming?
Jesus the iPhone yet again (Sorry) but if this is what the readers want then it is what the readers will get. The iPhone is launching tomorrow at 6pm but we have come across some fantastic news (if it is true that is, looks like it is but no official words yet). It is reported that Nintendo the gaming giants night be partnering with Apple for the iPhone gaming experience, now this really confuses us because it seems like Apple are clearly targeting the older person and business like person, so why the hell would they want gaming on the iPhone from Nintendo (we are confused). The other question is how the hell will they control Mario on the iPhone; there is no D-Pad.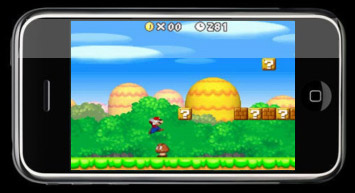 If you have any information on this question "Are Nintendo partnering with iPhone for Exclusive Gaming? Please do get in touch by using the comments section below, this one is important we need to know.
Source — No Heat