Gresso Luna & Sol luxury Avantgarde collection mobile smartphones
Now I really want to get my hands on these so I can give them a full on hands review, plus I just want to touch them. These two new phones are part of the Avantgarde collection from the Gresso company which to tell you the truth have never heard of, but now we should hear more about them because going on these two new smartphones we can see a bright future for them.
Just looking at these phones you can see they are unique, at a quick glance these 2 phones from Gresso look the same, but look a little closer you can see the difference. The Avantgarde collection consists of the Gresso Luna and Gresso Sol mobile phones which are unique in style and rare materials as well. The Luna and Sol run on Windows Mobile 6 Standard OS which is rare in itself considering there are not many luxury phones offering this.
These handsets are hand crafted from gold and have African Blackwood plus titanium, the details are amazing and breathtaking, they have sapphire crystal glass which surrounds the QVGA TFT 65k colour display and the keypad has been laser cut and the front and back panels are made of scratch-resistant hand-polished titanium.
The Gresso Avantgarde Luna for example has a stunning flat laser cut keypad and you will notice the navigation keys being gold. The Luna has tri-band GSM/GPRS support and also has a 2 megapixel camera, memory card slot and Bluetooth, it weighs 128 grams, the Gresso Avantgarde Luna will cost somewhere around the 5000 EUR mark.
Now to the Gresso Avantgarde Sol which is just has good but is a little heavier at 138 grams, it is very much like the Luna but the sol is only 14mm thick, it is basically the same phone in the function department, it has got a full keypad made of gold thou. The Gresso Avantgarde Sol will cost somewhere around the 7000 EUR mark.
Gresso is a Russian based company and will be making these handsets available sometime in Q4 of 2007. Check out photos below –

GRESSO LUNA –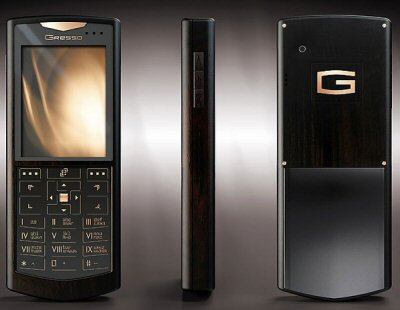 GRESSO SOL –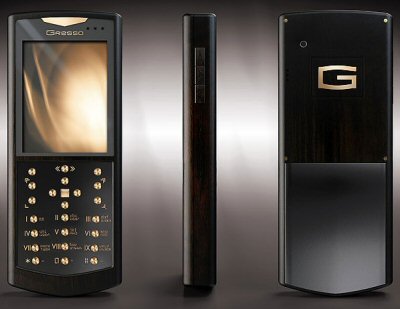 Please let us know what you think of these two new luxury phones, your comments are important to us.