Motorola ROKR U9 exclusive music phone: PEBL gets an upgrade
The Motorola ROKR U9 is an exclusive music phone and is a new phone for the ROKR series, the ROKR U9 looks a little like the Motorola PEBL when you look at it but these ROKR U9 handsets feature a 3.5 mm jack, mini-USB slot plus features an external color display and music controls (you know like that of the RAZR2).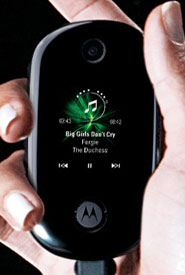 This mobile phone is expected to be at the top of the bill and must say I agree the Motorola ROKR U9 looks great and is basically a music phone that looks sleek and stylish (throw the MP3 player out and get one of these).
Pricing and even availability are scarce at the moment, but rest assured we will cover it again.
Specifications –
UMTS / GSM
Email: Pop, SMTP and IMAP4
Browser: XHTML
Internal quad-band antenna
Integrated Class 2 Bluetooth® wireless technology
Mini USB
MPEG4 video Playback
External dimensions: 86.5 x 49 x 20 mm
Weight: 112 grams
Clam design
Screen: 240 x 320 pixel 64K color TFT display
Symbian OS 9.2, Series 60 v3.1 UI
TI 2420 multimedia processor
Standard battery, Li-Ion 1030 mAh
Camera 1: 2.0 mega pixel 1600 x 1200 pixels
Camera 2: VGA
Memory: 90mb + MicroSD Slot
3D Graphics Engine
Javaâ"¢ MIDP 2.0
Dedicated Messaging & Browser keys
Up to 380 hours
Up to 5 hours
In the meantime you can see deals for this phone now over at Phones 2 U Direct